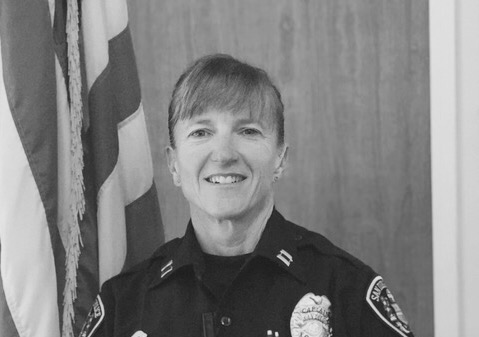 Courtesy of Captain Tina Williams:
Thank-you for the welcome back and I am glad that I have been permanently assigned to Northern Division.

I began my law enforcement career with the San Diego Police Department in February 1994.  My first patrol command was Southeastern Division where I spent 11 ½ years as an officer.  During my time at the command, I was a Field Training Officer, a SWAT officer, a member of the Crime Suppression team and the Bike team.

I was then assigned to the Gang Suppression Team for a few years before being promoted to the position of Sergeant.  As a Sergeant I worked patrol in Eastern Division and then back to the Gang Suppression Team.   I then promoted to a Detective SGT and took over an investigative team in the Street Gang Unit.  During this time, I had the collateral duty of being a Sergeant on the Emergency Negotiations Team.

When I became a Lieutenant, I was assigned as the inland service area Lietenant here at Northern Division along with being the Executive Officer of the SWAT unit.  I spent over a year at Northern Division before becoming the Commanding Officer of the SWAT unit.  I returned to Northern Division January 1, 2017 as an Acting Captain.   I was officially promoted to Captain in February 2017 and learned that I will remain here at Northern Division.

I am very excited over my new assignment as I know the level of dedication the community members who reside here have in regards to their commitment to public safety and quality of life concerns.
Note: Northern Division is located at 4275 Eastgate Mall, San Diego, CA 92037.
If it's an emergency, or you see a crime in progress, call the police emergency number 9-1-1.
If you want to report suspicious activity or a non-emergency, call the police non-emergency number 619- 531-2000.
For related posts, visit http://www.universitycitynews.org/category/neighborhood-watch/