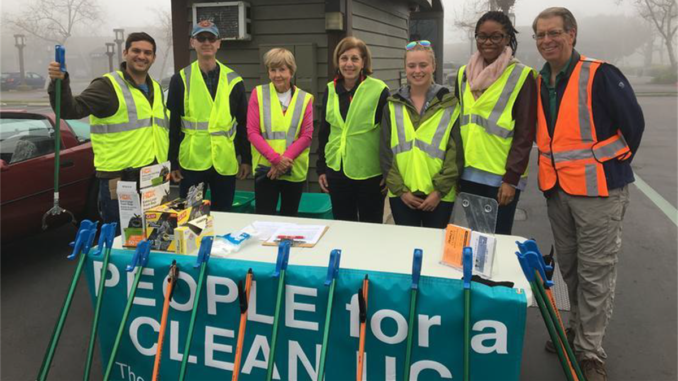 Courtesy of Barbara Bry City Council, District 1:
Our team continues to spend time in the UC Community. On March 12th, my office joined me to help beautify the streets of University City with People for a Clean UC. If you'd like to join a future cleanup, this group meets on the second Sunday of each month at 7:45am at the Starbucks at Governor and Regents.

Additionally, my office hosted the first meeting of the Public Safety Advisory Board at the University Community Library on March 15. I want to thank the San Diego Police Department's Northern and Northwestern Divisions for presenting at the meeting. The group discussed the importance of public safety as a shared responsibility. I want these quarterly meetings to foster open communication between my office, the community, and the Police Department.

I also want to increase the number of Neighborhood Watch Programs in the District, and I applaud the extraordinary efforts made by our Neighborhood Watch coordinators in University City (Barbara Gellman) and La Jolla (Cynthia Chasan). I plan to start a Neighborhood Watch program in my own neighborhood, and I pledge the support of my office to any District 1 resident who wants to start a Neighborhood Watch on their own block. For more information, contact Mauricio Medina from my team at MauricioM@sandiego.gov.

It was great to meet with UC residents over breakfast on Friday, March 17 to discuss community issues such as library hours, construction at UCSD, and the City budget process. Thanks to Bonnie MacRitchie and Katie Dunahoo, EdUCate! Foundation For Public Schools In University City; Helen Lebowitz, Friends of UC Branch Library; Janay Kruger, UCPG; Barry Bernstein, UCCA; and Anu Delouri, UCSD planning for attending.

As always, please feel free to contact our UC Council Rep, Bridger Langfur, blangfur@sandiego.gov, if you need any assistance from our office.
Editor's Note: The next neighborhood cleanup sponsored by People for a Clean UC will meet at Starbucks at 7:15 AM on Sunday, April 9.
For more information, visit https://www.sandiego.gov/citycouncil/cd1
For related posts, visit http://www.universitycitynews.org/category/district-1/