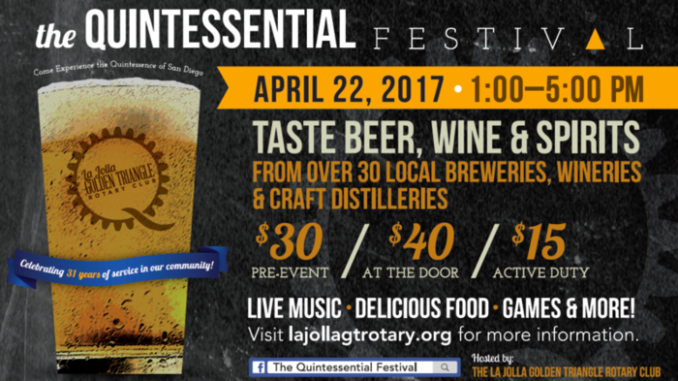 Courtesy of La Jolla Golden Triangle Rotary:
San Diegans are invited to attend La Jolla Golden Triangle Rotary's 4th Annual Quintessential Craft Beer & Wine Festival on Saturday, April 22 from 1-5 p.m. at the Nobel Athletic Fields on 8810 Judicial Drive near the intersection of Nobel Drive and Interstate 805.

This dog-friendly event features access and unlimited samples from 18 craft brewers, five regional wineries plus eight Southern California distilleries. Thrive Animal Rescue will also be on hand to showcase adorable adoptable dogs.

Attending this year are world-class craft brewers such as Maui Brewing Co., Ballast Point, Coronado Brewing Col, Karl Strauss, Thorn Brewery and Kilowatt. Three wineries from the Guadalupe Valley of Baja will be on hand, as well as two Ramona winemakers. Southern California distillers will be sampling rum, gin, whiskey and vodka, as well as saki.

The Quintessential Festival will offer cold coffee sampling and several food vendors including organic sausages, cheese balls, chocolate and cupcakes.

Among the many beneficiaries of funds raised by La Jolla Golden Triangle and the Quintessential Festival are The Preuss School UCSD, the VA Hospital, Ronald McDonald House and projects benefitting local active military and their families.

International efforts include the Rotary Jalalabad School in Afghanistan, and humanitarian projects in India, Africa, Israel and most recently, the provision of blankets for refugees arriving under emergency conditions in Macedonia.

Tickets are $30 in advance; $40 at the door; and $15 for active duty military. One hundred percent of the proceeds benefit 45 local and international humanitarian projects stewarded by nearly 100 members of the La Jolla Golden Triangle Rotary Club.
For more information and for tickets, visit http://www.lajollagtrotary.org/