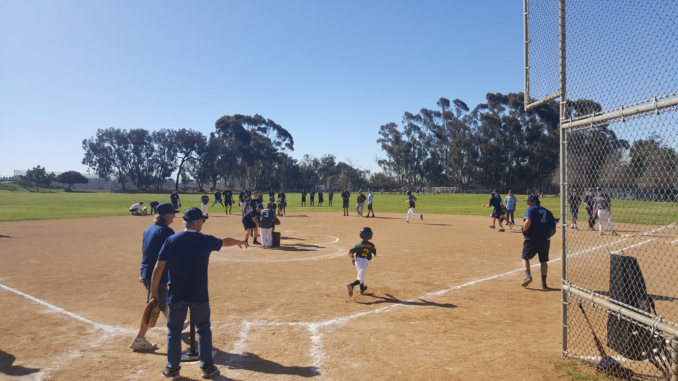 Courtesy of Jemma Samala; photos courtesy of Michelle Martin:
The University City High School baseball team volunteers at University City Little League Challenger home games by acting as "buddies" to Challenger team players.

The Challenger division is for players with physical limitations. The buddies assist players by acting as guides around the bases and during field play. When the Challenger games are hosted at the UCLL fields, buddies are provided for both home and away teams.

The UCHS baseball team has partnered with UCLL for several years now started by former coach Will Rivera. Current UCHS Head Coach Richard Frink makes the games a priority for his players, which provides benefits for both the Challenger players and the baseball team buddies.

"Our team and families feel so supported and thankful. Your boys really stepped up and helped our players play ball, have fun, stay safe, and laugh" commented Michelle Martin, who has sons on both the UCHS baseball team and the Challenger team. She continues to say "Our youngest newest rookie Paeyton slept in her baseball hat and glove. My heart is full and I look forward to our games in the future."

The UCHS baseball team will continue to volunteer throughout the season. Info on the Challenger division can be found at www.ucll.org.
The next Challenger game in University City will be with Rancho Penasquitos  on the UC Adult Softball Field, Sat, April 22, 9am – 12pm, 3671 Governor Dr, San Diego, 92122
For related posts, visit http://www.universitycitynews.org/category/uchs/