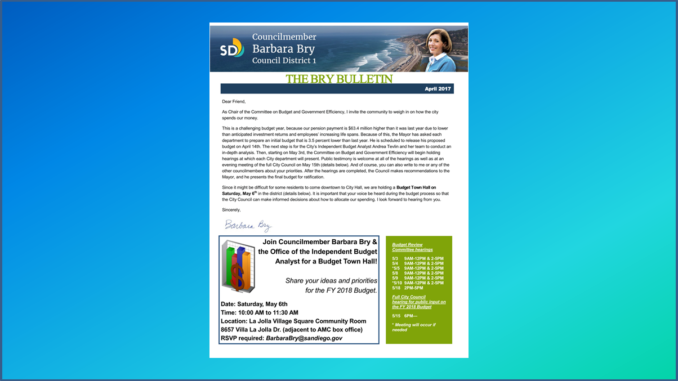 Courtesy of Barbara Bry City Council, District 1:
As Chair of the Committee on Budget and Government Efficiency, I invite the community to weigh in on how the City spends our money. This is a challenging budget year, because our pension payment is higher than it was last year due to lower than anticipated investment returns and employees' increasing life spans.

Because of this, the Mayor has asked each department to prepare an initial budget that is 3.5 percent lower than last year. On April 13th, the Mayor presented his proposed budget for Fiscal Year 2018, and the City's Independent Budget Analyst Andrea Tevlin and her team are currently conducting an in-depth analysis that will be presented at the first Budget Review Hearing on May 3 (other meetings May 4, 8, and 9).

Public testimony is welcome at all hearings as well as at an evening meeting of the full City Council on May 15th. And of course, you can also write to me or any of the other councilmembers about your priorities. After the hearings are completed, the Council makes recommendations to the Mayor, and he presents the final budget for ratification in early June.

Since it might be difficult for some residents to come downtown to City Hall, we are holding a Budget Town Hall in the district, Saturday, May 6, 10:00-11:30 AM, La Jolla Village Square Community Room, 8657 Villa La Jolla Drive, adjacent to AMC box office. RSVP required to BarbaraBry@sandiego.gov. It is important that your voice be heard during the budget process so that the City Council can make informed decisions about how to allocate our spending.

I look forward to hearing from you. As always, please feel free to contact our UC Council Rep. Bridger Langfur at blangfur@sandiego.gov if you need any assistance from our office.
For more information, visit https://www.sandiego.gov/citycouncil/cd1/news
For related posts, visit http://www.universitycitynews.org/category/district-1/