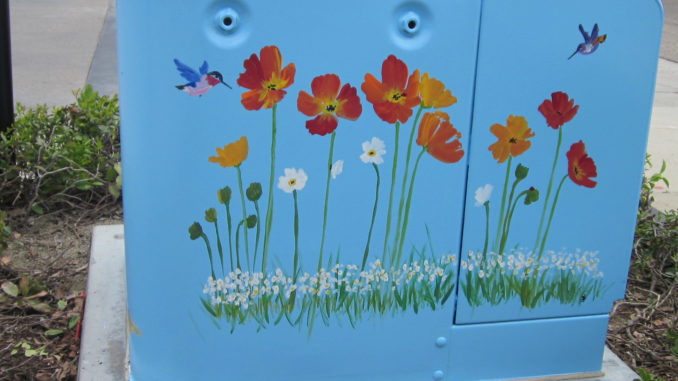 Courtesy of Barbara Gellman and Stella Ting:
Although her specialty is Asian brush painting, Stella's talent is diverse, not limited to ink and watercolors. Take a look at her recent design on the transformer box in front of United Oil on Governor Drive and Genesee Avenue.

If you look closely, you will be searching for various bees, butterflies, rabbits and other insects of nature. Previously, Stella painted two other utility boxes, one being across the street in front of the Mobil Gas station.

"I chose to paint the colorful spring flowers to compliment the tropical flowers that I had done few years ago on the transformer across the street," Stella explained. "The idea of painting little creatures among the flowers for children to find came when I had a conversation with Barbara. I painted some that are obvious and others a little harder to find so kids at different ages can have fun," she said.

She enjoyed the immediate feedback from those walking by. "As I was painting, it was a pleasure to hear feedback from many pedestrians that said they liked the bright color to cheer up the spot the transformer sits. My goal is to bring joy and stimulate curiosity to others," she explained.
The Transformer Art Project is sponsored by University City Community Association (UCCA). For more information, visit http://www.universitycitynews.org/transformer-art-project/
For related posts, visit http://www.universitycitynews.org/category/beautification/