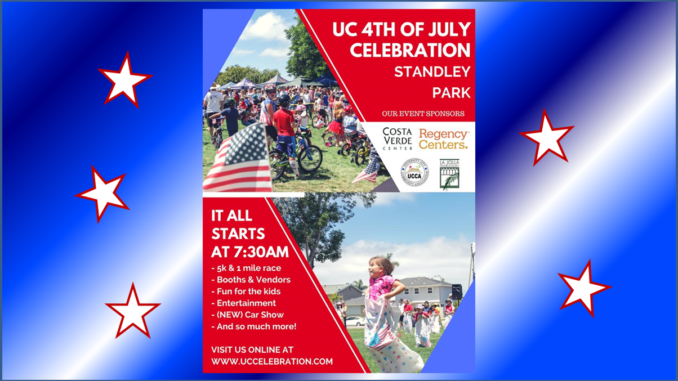 Spreckels Elementary will open their booth on July 4 at 9 AM with lots of swag to dress up those bikes and pets for the parade. Bring your friends and family and decorate together!
The Spreckels booth is located at Standley Park between the Recreation Center and the pool.
The bike and pet parade will step off at 10:30 from the Standley Middle School parking lot.
---
Food and fun at the 29th annual 4th of July Celebration at Standley Park; courtesy of Jemma Samala:
The annual UC Celebration kicks off University City's active community summer schedule on Tuesday, July 4 at Standley Park. There's plenty of activities for everyone, including a Slug-A-Thon for kids and adults run by UC Little League at Fort Field, next to Spreckels.
Schedule of Events:
7:30 AM – Pancake Breakfast Begins
7:45 – One Mile Fun Run Begins
8:00 – 5K Run/Walk Begins, British Invasion Band
9:00 – Book Barn Opens, Ticket Sales Start
9:30 – Pancake Breakfast Ends
10:30 – Bike and Pet Parade Starts from Standley Middle School
11:00 – Opening with National Anthem; Inflatables, Monkey Bridge, Food, Booths, Activities, Beer Garden, Virtual Reality
11:30 – Sack Races, Photo Scavenger Race Begins
12:00 PM – Polynesian/Hawaiian Dancers on the main stage
12:00 PM – UC Cars and Coffee Classic Car Show at Spreckels Elementary School parking lot
1:00 – Balloon Toss Games
1:30 – Nick Crook Performs
2:30 – Martin Coughlin Performs
3:30 – Tug of War Games
4:00 – Apple Pie Eating Contest
5:00 – Concert – True Stories Performs
7:00 – 2017 UC Celebration Ends
Celebration Booths
Make sure to visit the booths, which include those selling clothing, accessories, jewelry, arts & crafts, plants. Services range from wellness to computer repair to real estate, including face painting at the Nancy Beck/C21 booth. Get info from community booths such as Change Begins with Me, school groups, church groups, non-profit groups, and UCCA.
Celebration Food
Lots to eat! Food choices range from hot dogs (UCLL), Greek, Mexican, African, Root Beer Floats, Nachos, Shave Ice, Kettlecorn, and baked goods. Plus the morning Pancake Breakfast!
Shuttle Stops
Don't drive; take the free shuttle aboard the Old Town Trolley, operating along Governor Drive from 11 AM to 7:30 PM. Trolley stops along Governor, from east to west, include:

The Park and Ride at 805
Gullstrand Ave – both sides
Curie Elementary School and across street at Urgent Care
Mercer Ave and across street at Standley Park
Corner of Regents Rd – both sides
Corner of Stresemann Ave at Church of Latter Day Saints
For more information and to volunteer to help out, visit http://uccelebration.com/
For related posts, visit http://www.universitycitynews.org/category/events/