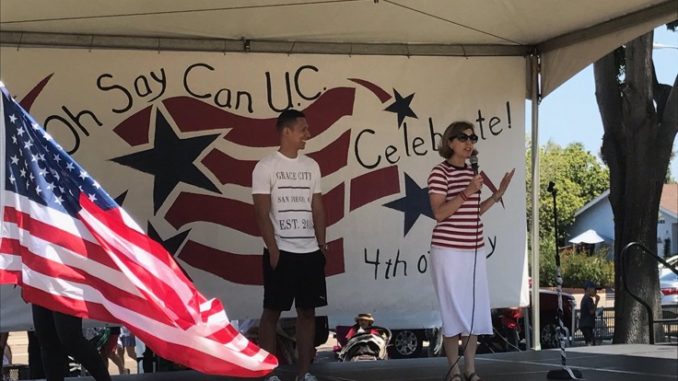 Courtesy of Barbara Bry, City Council, District 1:
June was a busy month at City Hall, and the Council made several significant decisions. I joined my colleagues in voting down a costly and rushed special election for both the Mayor's proposed convention center expansion and the SoccerCity initiative.

While I do support expanding the convention center as a regional economic driver, I don't believe the Mayor's proposal would have passed with the necessary support of 2/3 of voters. Now, I want to work with the Mayor and stakeholders in the community to develop a feasible plan that promotes economic development through an expansion of the convention center.

The City Council also voted to put the SoccerCity initiative on the November 2018 ballot instead of approving it outright or holding a special election. While my family and I do love soccer, I do not believe that it should the only factor in determining the future of one of our most valuable assets.

SoccerCity promises great things, but the initiative also includes escape routes for investors and no protections for taxpayers. Proponents promise a soccer stadium, an MLS team, and a river park. But the City Attorney recently opined that the measure provides no guarantee that a river park or stadium will be built, and that taxpayers may be on the hook for environmental cleanup costs. Additionally, ballot-box land-use decisions bypass important environmental and fiscal reviews and limit the City's ability to negotiate a fair deal for taxpayers.

We also need to engage SDSU in a meaningful way in the plans for what's next for Mission Valley. Consider that in the 1950s, the City gave land to UCSD and zoned the surrounding area for research and development. This laid the groundwork for our thriving innovation economy, which now accounts for 1⁄4 of San Diego's overall economy.

I wonder what San Diego might look like in 50 years if we took the time to thoughtfully shepherd a project that is economically beneficial, socially responsible, and affirms our city's identity as an international hub for innovation.

Now that SoccerCity is on the November 2018 ballot, we can simultaneously move forward with a fair, transparent, and competitive process. I have every confidence that the City can move this process forward expeditiously to bring concrete alternatives to the public by November of 2018.

We can do this by building a strong and diverse coalition that includes the Council, the Mayor, SDSU, and community members. In doing so, I look forward to seeing a once-in-a- lifetime project, with community buy-in, take root in Mission Valley and create a legacy that our grandchildren can be proud of.

This is a snapshot of some of the issues we are working on at City Hall. I'd like to hear about your priorities and concerns, so please feel free to contact your UC Council Representative, Bridger Langfur (blangfur@sandiego.gov), if you need assistance from our office.
For more news from City Council District 1, visit https://www.sandiego.gov/citycouncil/cd1
Editor's Note: Council Member Barbara Bry visited the 4th of July Celebration at Standley Park. Photos courtesy of Bridger Langfur.
For related posts, visit http://www.universitycitynews.org/category/district-1/