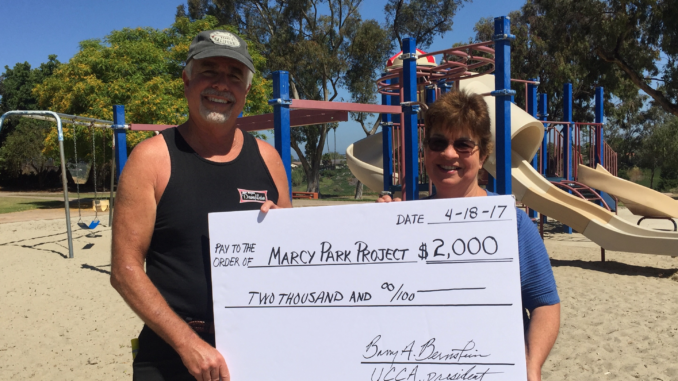 Courtesy of Ruth DeSantis and Don Hotz, Project Managers UCCF / Improve UC Board Members:
The first phase of improvements to Marcy Park is underway. Workers recently cleared a commercial sized dumpster of landscape debris from the perimeter of the park and that work will continue. In addition, one infant bucket swing was replaced with a belt swing and the broken spaceship rocker was also replaced. The City is trying to locate parts for the broken sunshade on the slide and the tic-tac-toe board. Once these parts are procured, we intend to paint the entire play structure.

Have you noticed the missing concrete picnic table in the rear of the park was replaced? New concrete benches are also on order for the play area as well as a 3-level water fountain to replace the concrete one at the front of the park. This will provide water to our furry friends and is ADA compliant. We are also looking into replacing the aluminum trash cans with something less prone to being knocked over by gusty winds. Rodents and wild animals love those windy days!

All trees were inspected by the City, pruned heavily for safety and we are awaiting approval for the addition of 4 new trees in the park.

Would you like a bench at the front of the park? The City is also considering our request to add 2 benches in the front of the park, each under a new tree. If having a bench in the front of the park is important to you, please email Ruth at rgd@san.rr.com. The more people we hear from in favor of adding a bench, the greater chance we have of getting it approved.

University City Community Foundation would not have been able to undertake the Marcy Park Project without the financial support of the Standley Park Recreation Council, the University City Community Association and generous residents who supported this project.

Thank you to: Brian & Tracy Julien, Ronald Kay, Poseidon Restaurant, Barbara Saxon, Ryan & Kelly Ahearn, Frank & Lunda Gordon, Dale & Martha McGinty, John Beacom, Ruth DeSantis, Ernie & Sandy Lippe, Douglas Tharp, Nancy Beattie, Don & Valerie Hotz, Carrie Reichert, Steven & Lynn Shields, Barbara & Irvin Gellman, William & Nancy Ivey, John & Suzanne Ohlfest, Jonathan Tang, William Batista, Giancarlo Brushi, Ken Richter, University City Community Association (UCCA), Ben & Anne Weinbaum, and the Standley Park Recreation Council.
Photo caption: Don Hotz receives $2,000 grant for the Marcy Park project from UCCA, represented by Vice President Diane Ahern.
For related posts, visit http://www.universitycitynews.org/category/donations-and-grants/
For more info, or to donate, go to www.MarcyParkProject.com.