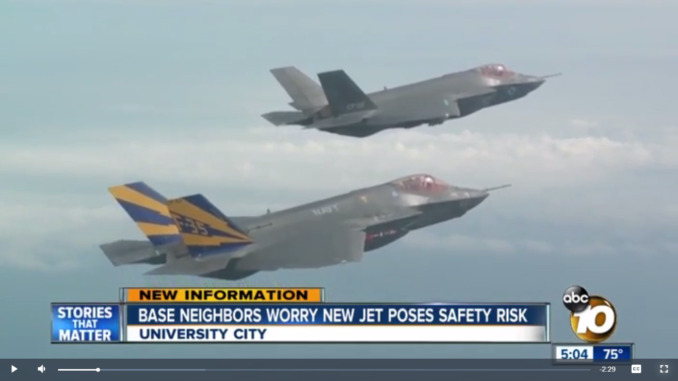 As posted on 10News, July 6, 2017:
Residents of University City want to meet with the military and Federal Aviation Administration staff to discuss Marine Corps Air Station Miramar's plans to introduce a controversial new jet to its fleet of aircraft.

The stealth jet F-35C is noisier than most, some say, and brings with it safety issues.

The safety issues are a chief concern for the University City neighborhood, which experienced a deadly crash in 2008.

Four people lost their lives when an F/A-18 Hornet fighter jet crashed into a house, killing Youngmi Yoon, 36; Yoon's daughters Grace, 15 months, and Rachel, two months; and Yoon's mother Suk Im Kim, 60.

Eight doors down from the home that the Hornet crashed into lives Ron Belanger. He's concerned that the new jets, which are scheduled to arrive here in 2020, will be noisier and will continue to follow what he calls an incorrect flight path right over the home he's lived in for 35 years.

Belanger said he's worried the single-engine F-35C brings with it an increased risk of a deadly crash.
View the entire post and related video at http://www.10news.com/news/university-city-jet-concerns-f35c-mcas-miramar
For related posts, visit http://www.universitycitynews.org/category/miramar/