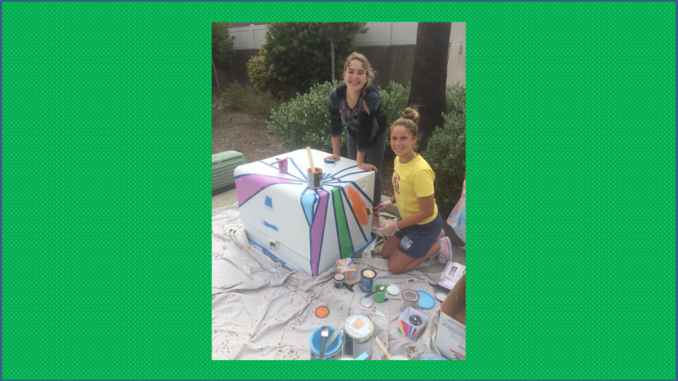 Courtesy of Emiline Mosnier and Mieke van Daelen:
We are two 8th Grade girls in Girl Scout Troop 3476. We painted an electrical box for our Girl Scout Silver Award Project. The box is located on the corner of Regents Road and Governor Drive at the entrance to the church parking lot.

We want our box to have a positive and inspiring message. The bright colors represent happiness and the sun represents warmth and light. We painted a sun that had rays wrapping themselves around the box and we based the colors of the rays on those from the 10 petals of the Girl Scout Daisy. They each represent the Girl Scout Promise: Be Honest and Fair, Friendly and Helpful, Courageous and Strong, Responsible for what I say and do, Respect my self and others, Respect Authority, Use Resources Wisely, Make the world a better place, and, to be a sister to every Girl Scout.

We added the message "Spread Kindness" inside the sun in hopes that when people look at the box, they are encouraged to be kind to one another. The design on the box can be interpreted in multiple ways, but we hope that you are filled with happiness when looking at our box, that is the goal. We enjoyed working on this project to beautify UC and we hope that it will uplift spirits and spread kindness because we can always use more of that in our community and beyond.

Thank you and warm wishes.
For related information, visit http://www.universitycitynews.org/transformer-art-project/
For related posts, visit http://www.universitycitynews.org/category/beautification/