For related posts, visit http://www.universitycitynews.org/category/miramar/
---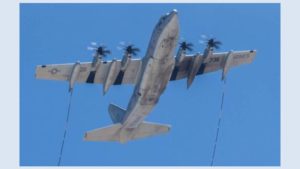 Photo op Friday afternoon (3/30/2018) – 5 KC-130J Super Hercules flyover. "The Raiders" Squadron celebrates their 75th anniversary on Friday afternoon. A battle colors ceremony to commemorate the 75th anniversary of Marine Aerial Refueler Transport Squadron (VMGR) 352 is scheduled for Friday afternoon at MCAS Miramar.
Five KC-130J Super Hercules aircraft from the squadron are scheduled to provide a flyover for the event. Those living and working in the MCAS Miramar area may see and hear increased aircraft activity Friday afternoon.
---

March 13, 2018: Presidential Aircraft to fly in and out of MCAS Miramar. According to reporting by KUSI, Air Force One is expected to arrive at MCAS Miramar at approximately 11:30 on Tuesday, March 13. The president will then tour the border wall area, returning to speak with Miramar personnel around 2 PM. Air Force One is expected to depart shortly afterwards. Full story from KUSI at http://www.kusi.com/preparation-underway-as-president-trump-plans-visit-to-view-border-wall-prototypes/
Union Tribune is reporting (all times approximate):
– 2:00 PM.: President delivers remarks to members of the military at Marine Corps Air Station Miramar.
– 2:50 PM.: President leaves San Diego.
---
Air Show 2017 pictures courtesy of Ron Belanger: https://ronbelanger.smugmug.com/MCAS-Miramar-Blue-Angels-2017/
---
January/February 2018 increased flight operations expected: 
January 30-February 1: Evening operations expected during full moon.
January 30-February 19: Increased rotary wing helicopter activity, including cargo aircraft, in service of operations at sea.
February 2: Airfield opens early for morning departures to begin 6 AM continue to 3 PM.
February 4: Adjusted hours 10 AM to 2 PM.
February 9 & 11: Increased operations and airfield hours to 11 PM in support of weekend drill by a reserve squadron. Hours subject to change (may be reduced but scheduled to 11 PM).
February 21-March 16: Increased operations in support of training by visiting Canadian squadron.
---
April 2017: MCAS Miramar accepting permit applications for Stowe Trail
MCAS Miramar is now accepting applications for permits to access the Stowe Trail, which is now open to those who have received a valid permit.

The Stowe Trail parallels the eastern border of MCAS Miramar and is now marked with appropriate signs to facilitate access to the trail by members of the San Diego community who have obtained a valid permit.

Applications for permits must be submitted through the MCAS Miramar Provost Marshal's Office. A valid permit is required for any person, 10 years of age and older, to legally access the Stowe Trail.

This policy applies to active duty (and reserve) service members, retirees and civilians.

For more information, including permit information, visit http://www.universitycitynews.org/2017/04/27/mcas-miramar-accepting-permit-applications-for-stowe-trail/
---
Spring 2017: San Diego International Airport introduced a new flight tracker which shows some of the flights originating or terminating at MCAS Miramar; take a look at  https://flighttracker.casper.aero/san/
As of October 2016, WebTrak San Diego International Airport (http://webtrak5.bksv.com/san) and WebTrak McClellan-Palomar Airport (http://webtrak5.bksv.com/crq) are no longer routinely tracking flight activity into and out of MCAS Miramar. To view noise and safety complaints compiled by University City residents using a flight tracking system that provided flight identification information, visit http://www.universitycitynews.org/mcas-miramar-noise-and-safety-complaints/
---
MCAS Miramar Operations Department provides world class operational and service support excellence to all tenant organizations in order to facilitate achieving strategic combat readiness and training objectives, as stated on their website.
For Airfield issues or inquiries, call the Airfield Operations Duty Officer (ODO) at 858-577-4277 or 858-577-4279 or email miramarmcas.odo@usmc.mil.
For safety or noise complaints, call the numbers above for the ODO or email your safety or noise complaints with name, street address and details of complaint to include time, date, and type of aircraft if known to the ODO at miramarmcas.odo@usmc.mil.
For Community Plans & Liaison Office inquiries, contact Kristin Camper at MCAS Miramar 858-577-6609 or email kristin.camper@usmc.mil.
For MCAS Miramar flight operations inquiries and/or safety and noise complaints, the Operations Duty Officer (ODO) prefers phone calls, rather than emails, as close to the time of the incident as possible. This allows the staff answering the phones to record and respond immediately.
To file a safety or noise complaint at other area airports, including Montgomery Field, visit http://www.sandiego.gov/airports/noise/.
---
2016 Miramar Air Show pics and videos, courtesy of Ron Belanger at ronb@boot.com:
Hello All, the 2016 MCAS Miramar Air Show took place the last weekend of September. Each year people in my neighborhood get a front row seat to watch the aerial performances.

The Blue Angels (and other aerial performers) fly over University City. This year they were a bit higher and slower than previously but still very impressive.

We also got to see the USMC F-35 performing. I put together a short album of pics and videos. Feel free to download them. Of course, I retain commercial rights to them.

Take a look at http://ronbelanger.smugmug.com/Blue-Angels-Miramar-2016

Cheers…   Ron
---
Welcome to Marine Corps Air Station Miramar, home to the 3rd Marine Aircraft Wing. Since October 1, 1997, Marines and Sailors have been living and working aboard the 23,000-acre facility. Miramar's primary mission is to maintain and operate the facilities and provide services and material to support operations of the 3rd MAW and other tenant organizations.
Read about MCAS Miramar history, commands, services and facilities, and recent news releases at http://www.mybaseguide.com/marines/49/mcas_miramar. 
---
General aviation resources:
---
MCAS Miramar Air Installation Compatible Use Zones (AICUZ):