⇒ Click here for Neighborhood Watch resources.
---
For current Neighborhood Watch news, visit the Neighborhood Watch newsfeed at http://www.universitycitynews.org/category/neighborhood-watch/
---
National Night Out events on Tuesday, August 7: This is an opportunity to meet new neighbors, introduce them to others on the street and Neighborhood Watch; they need to be in the loop. The police will drive by and answer questions if you are on the list by August 3. To those of you who have responded to having a gathering of neighbors, thank you; I have you listed.
For those of you who haven't planned or responded, take a few minutes and just do it. It's casual and neighborly; do a pot luck or even appetizers and side dishes. Call another Neighborhood Watch Captain on another street to combine your efforts and have a great time (call me if you need a name & number). Plan on a couple of hours, include children and seniors, put on the music and dance (sometime between 5:00-8:00 PM). Light up the night, put on the music and dance.
For more information, contact Neighborhood Watch Coordinator Barbara Gellman at bggellman@yahoo.com.
For related posts, visit http://www.universitycitynews.org/category/neighborhood-watch/
---
Run Hide Fight – Surviving an Active Shooter Event* is a short training video that has been used by many employers to educate their employees. Chances are you will never need this information but just knowing what to do could save your life.
*To download a Run Hide Fight handout to share, click or tap the handout image. The handout lists the guidelines outlined in the video Run Fight Hide and includes what to do when law enforcement first responders arrive on scene. 
Please note: While the guidelines listed are from this workplace video, they could be valuable in any active shooter situation. 
English language YouTube: https://youtu.be/5VcSwejU2D0
Spanish language YouTube: https://youtu.be/4T_kV_MVfaU
---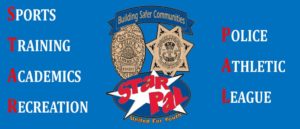 STAR/PAL (Sports Training, Academics, Recreation/Police Athletic League) is a nonprofit organization that provides over 10,000 youth services annually in inner-city neighborhoods throughout the city and county of San Diego. STAR/PAL offers free educational, athletic, and recreational programs which focus on promoting youth safety, positive life choices, and academic success. STAR/PAL program directors are officers from the San Diego Police & County Probation Departments. These dedicated officers coordinate unique programs for underserved youth, with the assistance of additional law enforcement and community volunteers. By bringing youth and law enforcement officers together in this manner, STAR/PAL helps build safer communities in the future. For more information, visit https://www.sandiego.gov/police/services/prevention/programs/starpal
---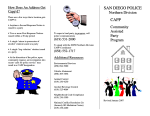 Why call the Police about Party Houses? What is Northern Division's CAPP (Community Assisted Party Program)?
The police department is powerless to do anything unless they receive a call for service and see evidence of illegal activity. You have to call, then police officers can take enforcement action to stop it. If the police observe repeated violations they can take escalating enforcement measures that will usually result in eventual compliance.
To read related article from CAPP Coordinator Robert Harvey, visit http://www.universitycitynews.org/2016/02/25/why-call-the-police-about-party-houses/
---

Neighborhood Watch Resources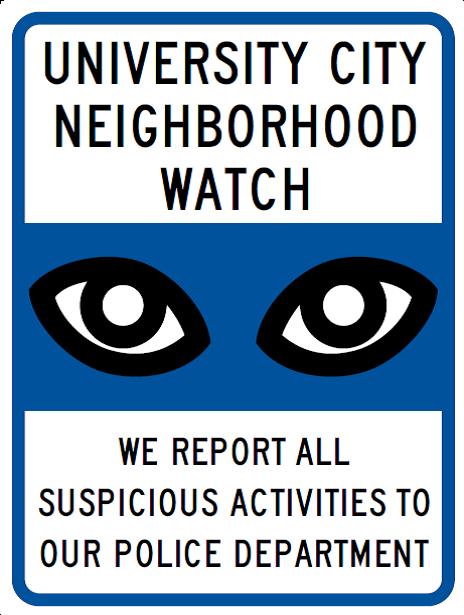 Do you have a Neighborhood Watch sign on your street? If you can't see one from your house, then you may not be connected to University City's Neighborhood Watch Network.
Neighborhood Watch is a crime prevention program that enlists the active participation of residents in cooperation with the San Diego Police Department (SDPD) to reduce crime, solve problems, and improve the quality of life in your area.
You will get to know your neighbors, and learn how to recognize and report crimes and suspicious activities, protect yourself, your family, and your property, protect your neighbor's family and property, and identify crime and disorder problems in your area and work with SDPD personnel to solve them.
To become part of University City's NeighborhoodWatch, contact Barbara Gellman, Neighborhood Watch Coordinator, at bggellman@yahoo.com.
---
The attached Neighborhood Watch documents were adapted from SDPD information by University City Neighborhood Watch Coordinator Barbara Gellman. For more information, visit http://www.universitycitynews.org/ or email bggellman@yahoo.com. Click or tap the image to view the PDF document.
To view the Contact List as a web page with 'live links', visit Neighborhood Watch* Contact List