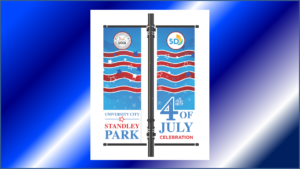 June/July 2017: In partnership with the Standley Park Recreation Council and the UC Celebration Committee, UCCA facilitated the design and installation of street banners promoting the 4th of July Celebration at Standley Park. The Celebration, now in its 29th year, marks the "official" beginning of Summer in University City with a full day of activities for the entire family and kids of all ages. To be part of this year's Celebration, please visit www.UCcelebration.com. Volunteers, donations, and vendor booths are welcomed and available. Please join us and help us Celebrate, University City! For more information, visit www.UCcelebration.com. For related posts, visit http://www.universitycitynews.org/category/parks-recreation-dept/
---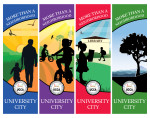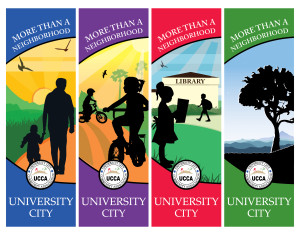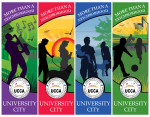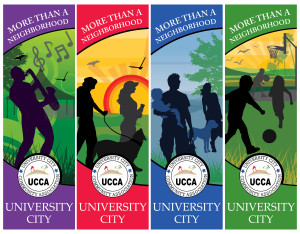 November/December 2016: With the financial help of a grant from the County Board of Supervisors under the leadership of County Supervisor Dave Roberts, UCCA has designed and installed a new set of banners on light poles in south University City. University City's new banner designs feature University City as more than a neighborhood … University City is a healthy, safe, and thriving community of San Diego County. UCCA gives a special thank you to our design team: Barry Bernstein, Barbara Henshaw, Merle Langston, Barbara Gellman, Deanna Ratnikova, and Diane Ahern. Take a look! New street/light pole banners were installed on Governor Drive, and on Regents Road & Genesee Avenue between San Clemente and Rose Canyons.
Thank you County Supervisor Dave Roberts. University City Community Association (UCCA) received two grants this year from the San Diego County Board of Supervisors.
The Community Enhancement Grant provided for the design of attractive and uniform street banners to welcome visitors to University City and highlight key gateways. UCCA's commitment to Live Well San Diego's vision for healthy, safe and thriving communities is obvious through the scenes depicted on the new banners.
The Neighborhood Reinvestment Program paid for banner production and installation.
Banner design was by Andrew Sanchez at AlphaGraphics on Governor Drive; banner production and installation was by The Décor Plan.
---
To learn more about the thriving community of University City and its Community Association, visit University City News at http://www.universitycitynews.org/.

To learn more about grant programs available through San Diego  Board of Supervisors, visit http://www.supervisordaveroberts.com/.

The first set of new banners were featured on the front page of the November print newsletter, available online at http://www.universitycitynews.org/ucca-newsletter-archives/
---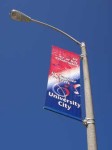 [In 2007, then] International City Bank CEO, Jane Netherton, generously committed $5,000 for new street banners for Governor Drive, Regents Road, and Genesee Avenue.
Ms. Netherton, who works out of ICB Long Beach office, initially answered the call six years ago [in 2001] to get banners up on these main streets for community identity and beautification. She donated $10,000 [in 2001] to launch the street banner program when University City Community Association contacted various businesses asking for support of the project.
International City Bank, [formerly located at 3939 Governor Drive], has made a community commitment since 1984 when it first opened its doors. Jane Netherton has always maintained that she feels it is important to give back to the community.
Barbara Henshaw, UCCA banner chair, had new street banners put up in June [2007]. She worked with a graphic artist who has designed many street banners.
In 2011, UCCA sponsored a banner design contest within the community to replace many of the existing faded banners. Ten contestants submitted designs and four were chosen to be installed throughout the community along Governor, Genesee and Regents.
UCCA also partners with the San Diego County Fair to promote awareness and attendance every summer.
---
---
---

---