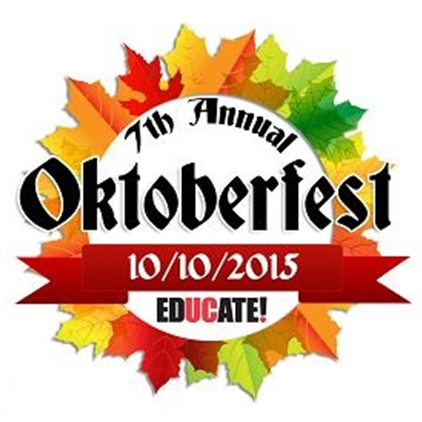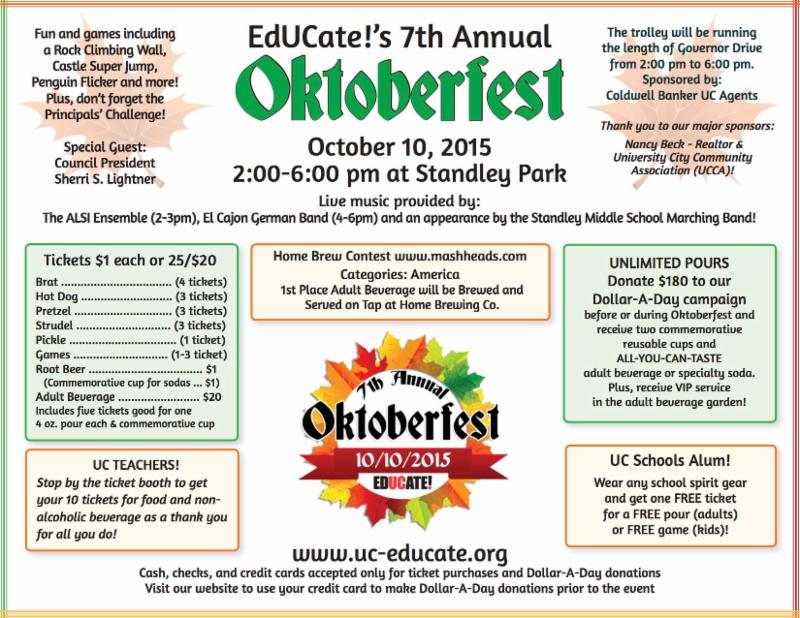 Save the date for Oktoberfest! Get some local brew tastes, as well as support local schools, on Saturday, October 10, 2-6 PM, at Standley Park on Governor during EdUCate!'s Oktoberfest.
Besides the beer garden, this October fest will feature entertainment from German bands and our UC schools, games, and food. Home brewers can enter the Home Brew Contest (a BJCP sanctioned event). The winner will be able to serve their winning brew on tap at Home Brewing Company in North Park.
Contributors to EdUCate!'s Dollar-A-Day (DAD) program, $180 or more, get VIP status, which includes all-you-can-taste beer, wine or non-alcoholic beverages. Donate on the EdUCate! website www.uc-educate.org or day of the event.
Anyone interested in volunteering, sponsoring, and/or donating beer and/or wine, please contact Dawn Yandel, Oktoberfest (or do you say Octoberfest) Chair at dawnyandel@aol.com.
Local businesses and individuals interested in sponsoring kids games and activities will find a list of activities and information at https://www.universitycitynews.org/2015/09/12/oktoberfest-sponsorship-opportunities-educate-is-seeking-sponsors-for-kids-games/
Note: At UCCA's September meeting, UCCA approved a $1000 grant to EdUCate to help offset EdUCate's costs for Oktoberfest.
---
What do Facebook, Twitter, Nextdoor, ImproveUC and UCCA have in common? They are all ways neighbors can connect with neighbors and the University City community. Create a post, start a conversation, share the news, organize an event, keep in touch, take a look: