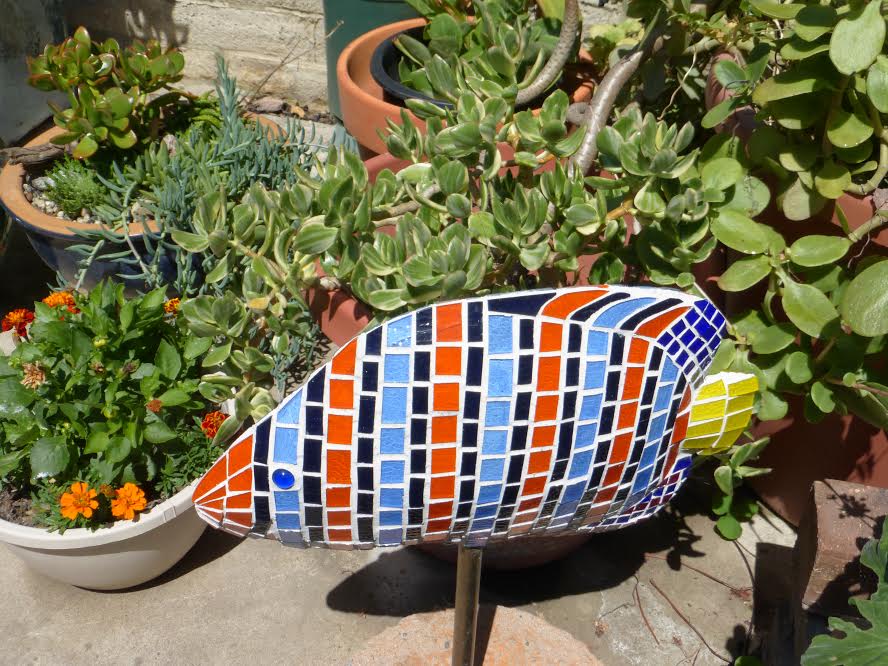 Bretta Lutze, hostess of September's UC Garden Club meetup, has kindly furnished us with this delightful sketch:
Please join us at the UC Garden Club meetup on Friday, September 25, from 6 to 8 PM. The author of Under the Spell of Succulents, Jeff Moore, will present an indoor slide show of his designs.

As the owner of Solana Succulents, Jeff can share a lot about succulents with us. He is creator of The Under the Sea Succulent Garden for the Del Mar Fair, which won many awards and earned Jeff the name "The under the sea succulent garden guy."

The Under the Sea Succulent Garden is the inspiration for the host garden this month. Hostess Bretta Lutze has created her own version of an under the sea succulent garden complete with aloe octopus, sea grass suggested by fiber optic grass, and a contorted crest of Echeveria gibbiflora that looks like coral. In addition, glorious fish sculptures, shining with stained glass colors, appear to swim freely among the drifts of tide pool plants.

When you arrive, take a look at the parkways near the sidewalk. They are reminiscent of a prairie meadow with flowers peeking from among the grasses and flax. Then venture to the front gate and enter the patio filled with roses wafting in the breeze, red, yellow and peach roses full of scent. You will walk along the rose quartz pathway to the backyard to enjoy refreshments and hear from Jeff. So come, join us, it will be fun.
*UC Garden Club meetup on Dennison Street, near Millikin Avenue, Friday September 25, 6 to 8 PM. Signs posted on Friday will point the way to this beautiful under the sea garden.
Visit Solana Succulents at http://www.solanasucculents.com/solanasucculents.com/Home.html
Vist the UC Garden Club at https://www.universitycitynews.org/uc-garden-club/
---
What do Facebook, Twitter, Nextdoor, ImproveUC and UCCA have in common? They are all ways neighbors can connect with neighbors and the University City community. Create a post, start a conversation, share the news, organize an event, keep in touch, take a look: