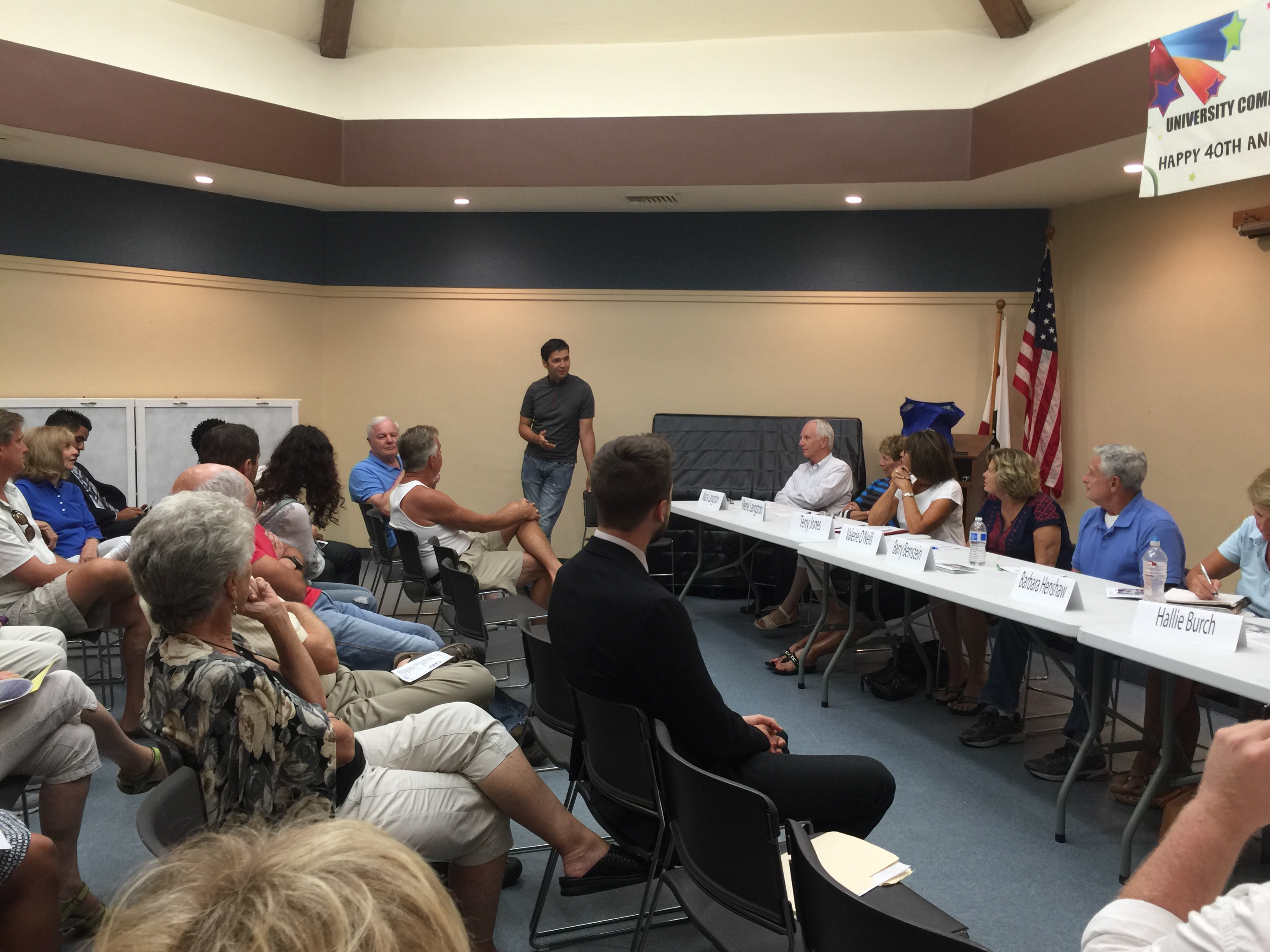 Update 10/19/2015: From the Development Services website, Code Enforcement Case Map at
http://www.sandiego.gov/development-services/opendsd/: "No permits for grading & removing native plants."
---
At UCCA's October 14th meeting, UCCA provided an open forum to address a community concern related to the brush control work on the east hillside opposite Pennant along Regents Road, property address 5807 Regents Rd.
The owners of the property (said to have been purchased in a city auction in March), were present, along with representatives from the city's fire department/brush management and city Council President Sherri Lightner's office.
After much discussion and explanation/questions, it was explained that if the city determines there has been a permit or code violation, the owner will be cited by the city.
The owners, once obtaining the required permits, said they will be continuing with the next phase of surveying the property hillside. The young couple owning the property (3.07 acres), said they do not have plans to develop the property beyond one residence; and stated that they will not sell the property to inquisitive developers/speculators.
They said they feel certain that University City residents will be very pleased with the added fire safety being provided by the brush and trash removal as part of the project's preparation, the elimination of large portions of poison oak, and the added ultimate aesthetic enhancement to the surrounding community.
---
Note: If you have a news item to share, please submit your story through UCCA's Contact Us link at https://www.universitycitynews.org/contact-us-or-volunteer-in-uc/.  
Review article guidelines at https://www.universitycitynews.org/ucca-newsletter-archives/
What do Facebook, Twitter, Nextdoor, ImproveUC and UCCA have in common? They are all ways neighbors can connect with neighbors and the University City community. Create a post, start a conversation, share the news, organize an event, keep in touch, take a look: