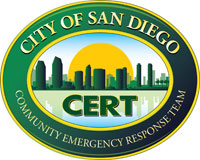 UPDATE 1/5/2015: Per Mike Lawson, meeting cancelled due to weather. Rescheduled to January 19 at 6:30 PM. 
From Mike Lawson, CERT San Diego
Due to the SEVERE weather today and tonight I feel it best for the safety of everyone to cancel our meeting for tonight at the Library on Governor at 6:30 PM. Rescheduled to January 19 at 6:30 PM. 

Please see below message from CERT Program Coordinator City of San Diego Fire-Rescue Department Carie De Marco:

Good afternoon,

The City just shared a telephone number that the public can use to report important information about city facilities and services that may be damaged or faulty during severe weather. This is not an activation, just a number for you to call if you see something. Feel free to share it with anyone you know.

619-527-7500 – Public Works Dispatch

You can use this number to report:

o Any hazards in the Public Right-of-Way (NOT on personal property)
§ Downed Trees
§ Downed Light Poles
§ Debris/Mudslides
o Inoperable/faulty Traffic Signals
o Water emergencies after 7:00 PM. (PUD's Call Center, 619-515-3525, is open 7:30 AM -7:00 PM)
o Sewer emergencies

Thank you, everyone, and please stay safe!

Tentative new date for CERT meeting January 19th

Thank you all for your understanding, I have contacted the Library on Governor and set a tentative date for January 19th at 6:30 PM.
I have left a message for Vincent Davis to make sure he is available. Once confirmed, I will re-post a confirmation.

More news to follow.