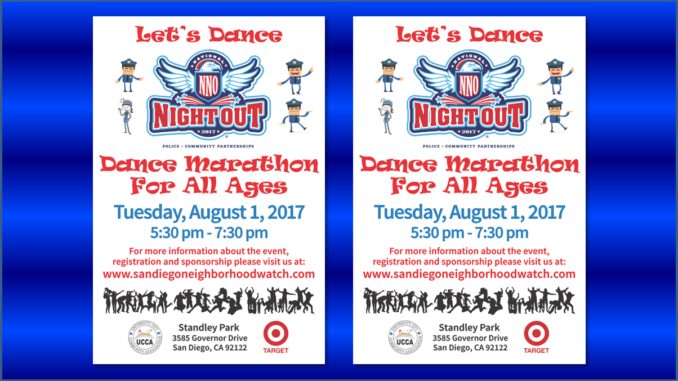 Courtesy of Barbara Gellman, University City Neighborhood Watch Coordinator:
To clear up any confusion regarding National Night Out 2017:

Per the request of our police department at Northern Division, having one big community event in one location will assure police representation; they do not have enough officers and time to stop at each home, as they did in the past. UCCA and Target are proud sponsors of this Neighborhood Watch event. We will not be meeting at Spreckels with the Food Trucks or Fire Trucks but, 3 food trucks will be present at the Dance Marathon with 10% of the profits going back to EdUcate.

This year's National Night Out Dance Marathon Fundraiser at Standley Park on August 1, will give everyone the opportunity to gather in one place, meet police and fire officials, council members, and others to show our support for what they do to protect us and show the "bad guys" that we are standing up, as a community, against criminal activity. It also serves as a format to raise funds for the San Diego Police Foundation who, provide much needed safety equipment such as plate vests and shields, that are not in their budget and very expensive.

Even though the police are not available, plan a Neighborhood Watch street gathering on another night to "mingle and munch"; it's all part of the good vibrations that flows through University City.

Look forward to seeing you all dancin' at the park, shoes or no shoes, you are all welcome.
To contact Barbara Gellman, email her at bggellman@yahoo.com
For more information and to register, visit http://www.sandiegoneighborhoodwatch.com/
For related posts, visit https://www.universitycitynews.org/category/neighborhood-watch/