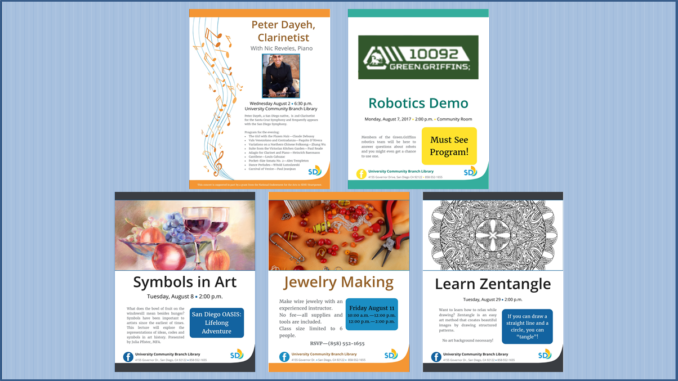 Courtesy of University Community Branch Library, 4155 Governor Drive, 858-552-1655, www.sandiego.gov/public-library; now open Saturdays from 9:30 AM to 6 PM!
Programming for Adults
CERT Meeting educates individuals about disaster preparedness for hazards that may impact their area. Tuesday, August 1 @ 6:30 p.m.

Concert: Peter Dayeh, Clarinetist & Nic Reveles, Pianist. Wednesday, August 2 @ 6:30

Adult Writers' Group – Meet with other beginning writers in a supportive environment—share your writing, positively critique others' work and hear from guest writers. Thursday, August 3 @ 1:30 p.m.

OASIS: Symbols in Art, What does the bowl of fruit on the windowsill mean besides hunger? Symbols have been important to artist since the earliest of times. This lecture will explore the representation of ideas, codes and symbols in art history. Lecture by Julia Fister, MFA. Tuesday, August 8 @ 2:00

University City Community Association (UCCA), no meeting in August. Next meeting is Wednesday, September 13 @ 6:00 – 8:00 p.m.

Jewelry Making, take home something you made yourself! Make your own earrings and/or other pieces of jewelry with an experienced crafter. Space is limited, please call (858)552-1655 to RSVP. Friday, August 11 @ 10:00 a.m. & Noon.

Accordion Club meets the second and fourth Saturday of each month. All are welcome! Saturday, August 12 & 26 @ 9:30 a.m. – 12:30 p.m.

Computer Class on computer basics. Space is limited, please call (858)552-1655 to RSVP. Monday, August 14 @ 10:30 a.m.

Solar Eclipse Viewing Party outside the library and receive your own pair of Solar Viewing Glasses (while supplies last). Monday, August 21 @ 9:30 a.m.

UC Book Club will be discussing The Wives of Los Alamos by TaraShea Nesbit. Wednesday, August 23 @ 2:00 p.m.

The Zentangle Art Method is an easy-to learn, relaxing, and fun way to create beautiful images by drawing structured patterns. Tuesday, August 29 @ 2:00 p.m.
Programming for Children
Join us for Preschool Storytime for Kids; stories, crafts, finger plays and songs. Every Thursday @ 10:30 – 11:30 a.m.

A Makerspace Craft Station is available in the Children's Area with a different craft each week. All week long (Monday – Saturday).
Programming for Tweens/Teens 
Video Game Fridays, Wii gaming with your friends, Get your game on! Every Friday @ 4:30 p.m. Back to our regular time of 3:00 after the Summer Reading Program, August 18.

Green.Griffins Robotics Team members will be here to answer questions about robots and you might be able to actually use one. Monday, August 7 @ 2:00 p.m.
Summer Reading Program
Our favorite clown, Sparkles the Clown, returns with her special magic and bubble show. She's been clowning around since 1987! Join us for a hilarious and whimsical show. Wednesday, August 2 @ 2:00 p.m.

With the help of some friendly puppets, Little Catbird's songs come to life, telling stories inspired by nature, make believe and faraway lands. Experience a program full of theater, music, storytelling, and fun. Wednesday, August 9 @ 2:00 p.m.

SRP Movies, join us for a children's movie and popcorn. Call for details on what movie will be shown. Friday, August 4 and 11 @ 2:30 p.m.
---
To discover programming throughout the San Diego Public Library system, visit https://www.sandiego.gov/public-library/news-events
For related posts, visit https://www.universitycitynews.org/category/library/ 
Notes: Many thanks to the Friends of the Library for their generous sponsorship. You, too, can be a Friend; ask at the Check Out Desk. Please call the library to confirm any given program and holiday hours. Changes are rare, but may occur.