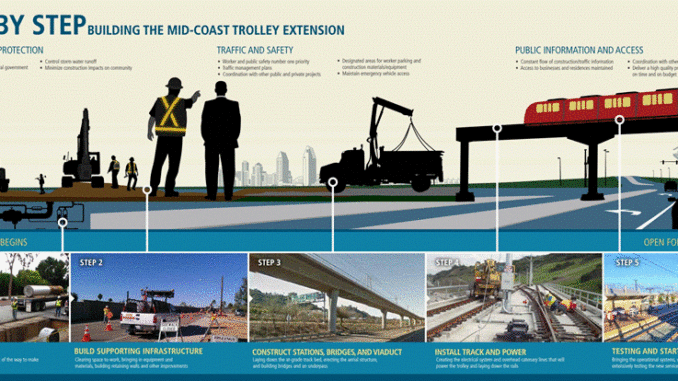 Mid-Coast Trolley construction crews continue drilling operations on Genesee Avenue from Regents Road south to Nobel Drive, including overnight work.
Crews will be drilling and installing columns in the median of Genesee Avenue, scheduled through the end of March. This work is required to complete the viaduct – the bridge structure that will carry the Trolley down the middle of Genesee Avenue. Due to the nature and sequencing of the operation, drilling and column work is required to be completed within a limited timeframe, and will begin in the early morning.
Construction activities include drilling, steel cage installation, and concrete pours. Expect noise during this construction period including use of trucks, cranes, and drill rigs. Regular construction activities, including street and utility work, will continue throughout the day, Monday through Friday, with drilling and column work hours scheduled from 4 a.m. to 2 p.m.
Regular construction activities will continue from 7 a.m. to 5 p.m. and include the use of heavy machinery, back-up alarms, drilling equipment and concrete pours. Crews will minimize impacts to neighboring residents and businesses as much as possible.
The drilling operations will continue to move south on Genesee Avenue to Nobel Drive, filling up to three column locations per week. Once the drilling operation is complete and steel cages are in place, pre-cast tubs will be installed atop of the columns to construct the viaduct for the trolley travel route.
The Mid-Coast Trolley project will extend Trolley service from the Old Town Transit Center to the University City community, serving major activity centers such as Mission Bay Park, the VA Medical Center, UC San Diego, and Westfield UTC. Nine new stations will be constructed. Major construction work began in 2016, with service anticipated to begin in 2021.
For more information, visit KeepSanDiegoMoving.com/MidCoast.
View related posts at https://www.universitycitynews.org/category/transportation/