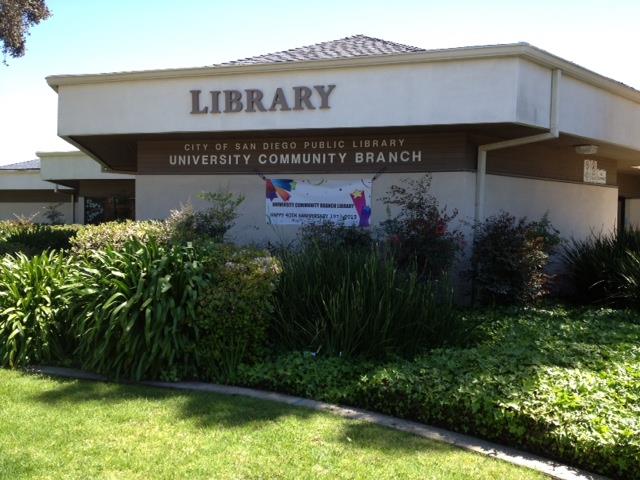 Holiday closure: Library will be closed on Friday/Saturday, March 30/31, in observance of Cesar Chavez's birthday. Book drops remain open and available on holidays. This branch closed on Sundays. 
There's much more to do at our community libraries than check out books. "Check out" these many free events:
Adults 
Classics Book Club will be discussing Leaves of Grass by Walt Whitman. Monday, April 2 @ 3:30 p.m.
Concert: Jarabe Mexicano – Performing on traditional mariachi instruments accompanied by lively percussion, Jarabe's arrangements feature stunning harmonized vocals in Spanish and English. Wednesday, April 4 @ 6:30 p.m.
Qi Gong (Chi Gong) is a simple preventative health method of relaxing and harmonizing the body. These gentle exercises are suitable for any age and health condition. Friday, April 6, 20 & 27 @ 9:30 – 11:30 a.m.
University City Community Association – This is a community meeting featuring updates from law enforcement, fire-rescue service, legislative and other community leaders. All are welcome. Wednesday, April 11 @ 6:00 – 8:00 p.m.
Jewelry Making, take home something you made yourself! Make your own earrings and/or other pieces of jewelry with an experienced crafter. Space is limited, please call (858)552-1655 to RSVP. Friday, April 13 @ 10:00 a.m. & Noon.
Accordion Club meets the second and fourth Saturday of each month. All are welcome! Saturday, April 14 & 28 @ 9:30 a.m. – 12:30 p.m.
Meet the Neighbors – Photographer Ed Sweed discusses the Witness2Resettlement project, which documents the lives of Syrian immigrants as they adjust to a new life in San Diego. Saturday, April 14 @ 1:00 – 2:30 p.m.
OASIS: Surf, Sand and Stone -Dr. Keith Meldahl discusses the complex geologic history of the California coast, from Santa Barbara to San Diego. He discusses how the coast's features developed and how they are continually changing. Tuesday, April 17 @ 1:00 – 3:00 p.m.
UC Book Club will be discussing Life in the Time of Cholera by Gabriel Garcia Marquez. Wednesday, April 25 @ 2:00 p.m.
University Community Library Anniversary Party. Come celebrate with us. Saturday, April 28 @ 1:00 – 3:00 p.m.
Children
Preschool Storytime for Kids; stories, crafts, finger plays and songs. Every Thursday @ 10:30 – 11:30 a.m.
Makerspace Craft Station is available in the Children's Area with a different craft each week. All week long (Monday – Saturday).
Homework Help – A volunteer will be at the library to help with homework. Available till May 4, 2017. Tuesday @ 2:30 p.m. to 4:00 p.m.
Wild Wonders – Come take a walk on the wild side, when Wild Wonders and their animal ambassadors visit our library! There's no telling what animals you might see! Wednesday, April 18 @ 2:00 p.m.
Tweens/Teens
Video Game Fridays, Wii gaming with your friends, Get your game on! Every Friday @ 3:00 p.m.
Girls Who Code Club – These are programs for 6th to 12th grade girls to explore coding in a fun and friendly way. Space is limited, please call (858)552-1655 to RSVP. Tuesday, April 3, 17 & 24 @ 3:45 – 4:45 p.m.
Spring into STEAM – Ozobot Moon Adventure. Teams will develop codes using markers to guide a mini-robot, called an Ozobot. This program is geared towards ages 9-12, to register, visit: sandiego.gov/steam. Wednesday, April 11 @ 2:00 – 4:00 p.m.
LEGO Club – Come build anything you can image with LEGO. Wednesday, April 4 @ 2:00 p.m.
---
Courtesy of University Community Branch Library, 4155 Governor Drive, 858-552-1655, www.sandiego.gov/public-library; now open Saturdays from 9:30 AM to 6 PM!
To discover programming throughout the San Diego Public Library system, visit https://www.sandiego.gov/public-library/news-events
For related posts, visit https://www.universitycitynews.org/category/library/ 
Notes: Many thanks to the Friends of the Library for their generous sponsorship. You, too, can be a Friend; ask at the Check Out Desk. Please call the library to confirm any given program and holiday hours. Changes are rare, but may occur.