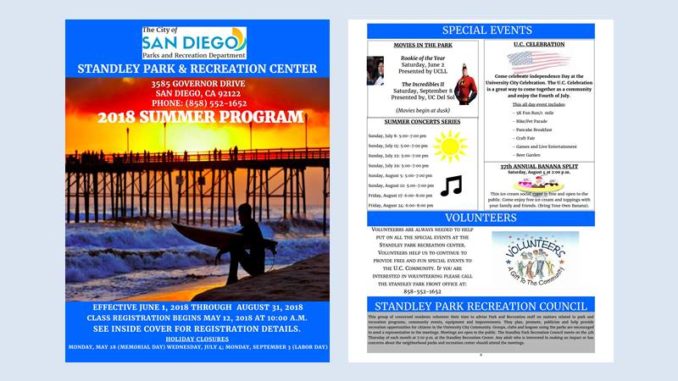 Summer at Standley officially begins June 1 with the start of the 2018 Summer Program. Save the date for these upcoming events:
Saturday, May 12: Recreation Center – Summer class registration begins
Monday, May 28: Memorial Day closure
Friday, June 1: Recreation Center Summer classes begin
Saturday, June 2: Rookie of the Year – movie begins at dusk, presented by UCLL
Monday, June 18: Swanson Pool – Summer program begins
Wednesday, July 4: UC 4th of July Celebration
Sunday, July 8, 5 – 7 PM: Teaser – Arena Rock with UC resident Rick Kern
Sunday, July 15, 5 – 7 PM:  Rare Form – Local UC  band
Sunday, July 22, 5 – 7 PM: Sully & the Blue Eyed Soul Band with Robert "Sully" Sullivan, local radio & talk show host
Sunday, July 29, 5 – 7 PM: Rachel Aldous & The Long Road Home –  Old time country, bluegrass, folk and western swing
Saturday, August 4, 2 PM: Banana Split ice cream social event (bring your own banana)
Sunday, August 5, 5 – 7 PM: Full Strength Funk Band with UC resident Pamela Gallo
Saturday, August 11, 4 PM at the University City Village Park (home of the new Tot Lot): Anniversary Party and Family Movie Night
Sunday, August 12, 5 – 7 PM: Siers Brothers –  Classic rock
Sunday, August 19, 5 – 7 PM: Corvelles – Supremes Tribute
Sunday, August 26, 5 – 7 PM: Forecast – A variety of Jazz styles with UC resident Greg Pardue
Monday, September 3: Labor Day closure
Saturday, September 8: The Incredibles – movie begins at dusk, presented by UC Del Sol
For more information about these special events and to download the 2018 Summer Program, visit the Standley Park and Recreation Center at https://www.sandiego.gov/park-and-recreation/centers/recctr/standley; or contact the Recreation Center at 858-552-1652.
Standley Park Recreation Council are volunteers who advise Park and Recreation staff on matters related to programming, events, equipment and improvements. The Recreation Council meets the 4th Thursday of every month at 7 PM at the Recreation Center on Governor Drive. Meetings are open to the public and any adult who is interested in making an impact or has concerns about the neighborhood parks and the recreation center should attend the meetings. Next meeting is Thursday, May 24.
The Standley Park and Recreation Center is located at 3585 Governor Drive, San Diego, CA 92122.
For related posts, visit https://www.universitycitynews.org/category/parks-recreation-dept/