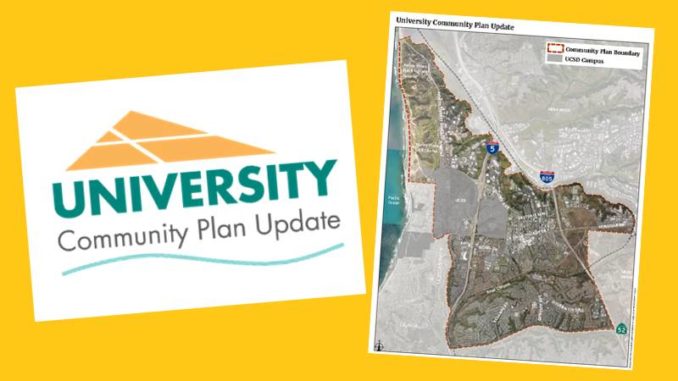 At UCCA's October 10 meeting, a delegate to represent University City Community Association (UCCA) will be identified to serve on the UCPG subcommittee charged with the development of a new University City Community Plan. All interested UCCA members are eligible. Please plan to attend the October 10 meeting to nominate yourself.

UCCA's president, Barry Bernstein, will attend the first Community Plan Update subcommittee meeting as the interim delegate to the UCPG subcommittee. After all self-nominations are accepted and evaluated on October 10, the UCCA Board will make the final determination on a delegate to represent UCCA on the subcommittee.

UCCA meets on October 10 at the University Community Library, 4155 Governor Drive, at 6 PM.

For information related to the Community Plan Update subcommittee's purpose, time commitment, and applicant eligibility, please go on line to the City website https://www.sandiego.gov/planning/community/cpu/university or contact Melissa Garcia, Senior Planner at magarcia@sandiego.gov

For more information, visit https://www.universitycitynews.org/category/ucpg/ or 'contact us'at at https://www.universitycitynews.org/contact-us-or-volunteer-in-uc/