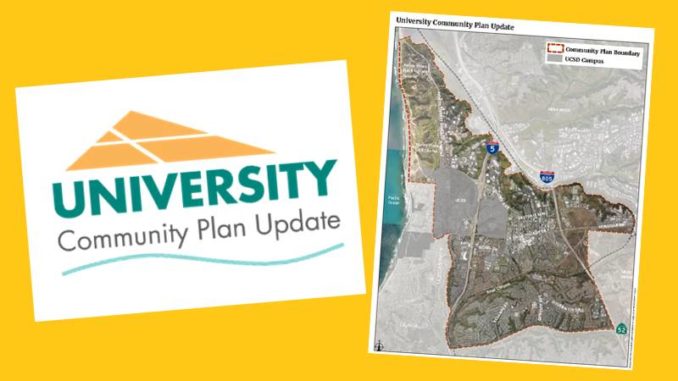 This is a public meeting of the planning group subcommittee who is tasked with updating the University Community Plan. The University Community Plan Update Subcommittee Meeting is Tuesday, February 12, 2019, from 5:30 to 7 PM, at 10300 Campus Point Drive, San Diego, 92122, in the same building as Green Acre Restaurant, 2nd floor conference room. Lots of free parking. All are welcome.
Item 1 – 5:30 – CALL TO ORDER / ROLL CALL BY CHAIR: Andy Wiese
Item 2 – 5:35 – NON-AGENDA PUBLIC COMMENT: Two minutes per speaker.
Item 3 – 5:50 – Info Item – Community Atlas Presentation Overview and purpose of the University Community Atlas and Community Plan Update Process.
Item 4 – 6:05 – Info Item – September 26, 2019 Open House Summary. Presentation on feedback received from the Open House event and discussion about the major themes identified from the feedback.
Item 5 – 6:45 – Next Steps:

Info Item – March meeting: Community Vision & Guiding Principles Discussion
Action – Subcommittee discussion/decision on day/time for March CPUS and future subcommittee meetings.

Item 6 – 7:00 – ADJOURNMENT
Sub-Committee Meetings are open to the public. Agendas and meeting summaries can be found at https://www.sandiego.gov/planning/community/cpu/university/subcommittee-university-documents
For further information regarding agenda items or sub-committee meetings, please contact City Planner Dan Monroe at 619-236-5529 or DMMonroe@sandiego.gov.
To review the Community Atlas – Existing Conditions 2018, visit https://www.universitycitynews.org/2019/01/20/planning-department-publishes-university-community-atlas-existing-conditions-2018/