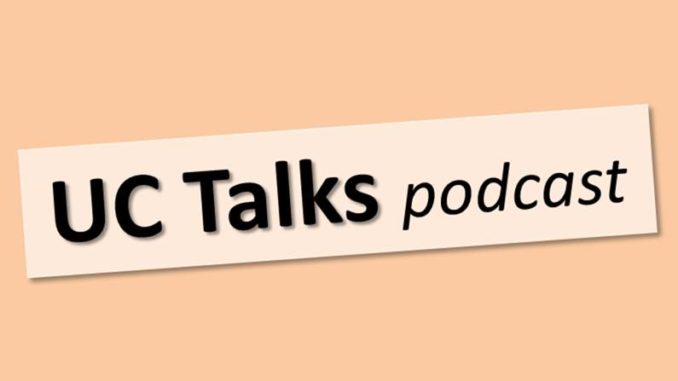 Hello and greetings to all of you as first-time "UC Talks" podcast listeners. This is Barry Bernstein, the UCCA president, wishing you the season's best and thanking you for being part of this local historical landmark production as this is our first podcast. It is with great pleasure and pride that this attempt to further improve our communications with you in a more timely and in depth manner than our usual monthly award winning newsletter and will be of help to our listeners in understanding and appreciating all the critical issues facing University City.
UC Talks Podcast #1: A discussion with University City Community Association President Barry Bernstein covering UC groups, community issues, and growth. Plus find out why Barry is such a loyal Padres fan. Listen at https://soundcloud.com/ucca-785209867/uc-talks-2-10-19-barry
Future programming will not only include current news, but exclusive interviews with those persons who have played an important role in our community history, as well as the current "movers and shakers". Special interest topics, some serious, some lighthearted will also be planned. And we will want YOUR feedback as to topics that you want to hear.
UCCA thanks the San Diego County Board of Supervisor's Community Enhancement Program grant for providing funding for our podcasts. An original jingle/melody for our future podcasts is being planned to introduce and conclude each podcast just to add a little fun to the production process.
Jemma Samala, our newsletter editor, will be serving as our podcast host/interviewer and no one could be better prepared for the job other than Jemma. Her involvement and contribution to many University City activities and organizations is well known.
Every so often, I will be adding my commentary as it relates to major community issues that I refer to in my newsletter column, and of course encouraging membership in UCCA.
If you have a suggestion for future UC Talks podcasts, please use the Contact Us link at https://www.universitycitynews.org/contact-us-or-volunteer-in-uc/
---
University City, more than just a neighborhood. UC Talks, news and views of University City.
UC Talks is a hyper-local podcast that features conversations, interviews, and news of University City. UC Talks is sponsored and managed by University City Community Association (UCCA).