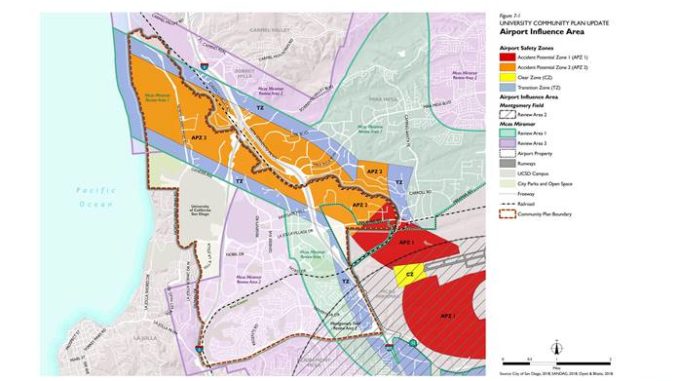 What follows is a summary of a presentation given at the February 2019 University Community Plan Update Subcommittee related to Chapter 7 of the University Community "Existing Conditions Community Atlas" published by the City's Planning Department in September 2018. Chapter 7 covers existing Environmental Hazards & Community Health, with sections on Aviation Noise and Safety, Air Quality, and Community Health. A PDF version of the presentation is available for download at University City is not an Accident Potential Zone – Presentation to Planning Group Sub-committee 2-12-2019 v1
---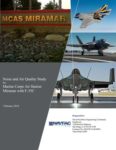 The 2020 home-basing of F-35 squadrons at Miramar is new to the University Community plan. The members of the University Community Plan Update Subcommittee are asked to recognize the impact, including environmental noise, health and safety, of the single engine F-35 when drawing up the new plan. Sub-committee members are asked to keep in mind that the residential areas of University City are not a designated aircraft Accident Potential Zone (APZ). Please remember that every time an aircraft from Miramar flies west of the 805, it puts the University community into an Accident Potential Zone. This increases noise, decreases safety in the community, and increases the chance of a crash in University City.

Standard Departure and Approach Procedures have been developed for all San Diego airports in partnership with the FAA, the Department of Defense, and the Airport Authority. Following Standard Procedures keeps Miramar aircraft safely east of the 805 on departure and in the designated Accident Potential Zones. This decreases environmental noise and increases the margin of safety for both the pilot and the people and property on the ground.
The new community plan should require that the City work with Miramar command and the FAA and the Airport Authority to ensure that the Standard Flight Procedures are followed by all pilots and aircraft using Miramar's airport. Doing so will allow the further development of the University Community in a manner that provides safety to those who live and work and go to school in our community.
When aircraft are not on the designated flight paths, allowable noise levels for residential areas are exceeded. Excessive noise negatively affects learning capability and creates adverse effects on the health of children, as documented in the Noise Report commissioned for MCAS Miramar.

Current mandatory departure procedures keep departing aircraft east of the 805 freeway when they're followed. The new community plan should require that the FAA and the DoD permanently shift departing flight procedures further north as is done with the Torrey Pines Golf Tournament to increase safety and reduce noise. If flight departures can be shifted for an annual golf tournament, why can't they be shifted permanently for the safety and health of the University community?

Miramar's crash data slide clearly indicates that most Miramar crashes have occurred in the Accident Potential Zones (APZ's). However, the accident slide is not up-to-date. It does not include the 2008 fatal crash that took the lives of four University City residents. The University Community Plan Update Subcommittee should require that Miramar release updated crash data that includes the fatal crash of 2008 and all crashes in our area from 1950 to date. How can you update the community plan without accurate and up-to-date information?
The  new community plan should require that the City provide active oversight of Miramar flights with noise and other monitoring devices to ensure that flights from Miramar airport do not overfly any portion of University City. It's done with San Diego International and Montgomery-Gibbs; why not with Miramar's airport?
Yes, Miramar was here first. But, keep in mind that our University City community was first planned and developed in the late 1950's and 1960's with DoD, FAA and Airport Authority representatives instituting procedures and flight paths that ensure that the residential areas of University Community are not in an Accident Potential Zone. Let's keep it that way.
I would also like to state the need to follow existing protocols to ensure that MCAS Miramar departures and arrivals are flown on proper flight paths under existing regulations. It is a well-known and documented that military aircraft crash at much higher rates than commercial aircraft. There have been many military air vehicle crashes and incidents locally including two directly in University City and several others in bordering communities.
Crashes of military aircraft departing Miramar may have far more serious consequences as they are carrying huge amounts of fuel and often fly with live ordnance on board. Also, Miramar is a training facility, meaning some pilots have very little flight time in extremely complex aircraft.
Basing the single-engine F-35 at Miramar poses additional concerns if flight protocols are not followed. When engine failure is the cause of a crash, single-engine fighter jets historically have twice the crash rate of twin-engine fighters. If the sole engine on an F-35 fails, and the aircraft remains disabled, the pilot has no choice but to eject and the aircraft crashes.
It is therefore imperative that MCAS-Miramar and the FAA attain 100% conformity and compliance with existing flight paths, regulations, and mandatory protocols designed to reduce the risk of crashes in University City. None of us is asking that any existing flight paths, regulations or mandatory protocols be changed. The residential areas of University City do not lie beneath any published or necessary flight path and are not in an Accident Potential Zone if the flight paths and protocols are followed.
As we mentioned earlier, Miramar was here first. Keep in mind that when University City was first developed in the late 1950's and 1960's, DoD, FAA and Airport Authority representatives designed procedures and flight paths to ensure that residential University City and UCSD were not in the Accident Potential Zone.
San Diego's airspace is like a Swiss watch and works well when every pilot follows the rules. The most complicated, dense, high traffic, crowded airspace in the world – it's claustrophobic. 

To the west, the Pacific Ocean is all restricted airspace used for military training, to the south is the Mexican border, to the east are rugged terrain and high mountains. Inside that small box are nine large airports: San Diego International, MCAS Miramar, NAS North Island, Montgomery-Gibbs Field, Gillespie Field, McClellan / Palomar, Brown Field, NALF Imperial Beach, Tijuana Rodriguez International and the Torrey Pines Glider Port. And it gets very tense trying to fit all that air traffic into a small space. The attached 3-D drawing shows the air corridors between Miramar and the coast.
MCAS Miramar is in Class-B Airspace meaning that all fixed wing aircraft must operate under positive FAA radar control. Aircraft are required by federal law and military regulations to follow strict departure and arrival procedures to enhance safety and reduce noise. With the home-basing of the F-35 in 2020, an aircraft which has only one engine, there is an increased risk of crashes and noise problems if pilots do not follow procedure.
We urge the University Community Plan Update Subcommittee to study the information provided in Chapter 7 of the University Community "Existing Conditions Community Atlas" published by the City's Planning Department in September 2018. Chapter 7 covers existing Environmental Hazards & Community Health, with sections on Aviation Noise and Safety, Air Quality, and Community Health. And we urge the Subcommittee to ensure that the City, the Airport Authority and Miramar Command work together to keep the residential areas of University City out of the Accident Potential Zone.
Presented by Rick Ackermann, Diane Ahern, Ron Belanger, Andy Gurney and Catherine Talley. 
---
Images below are from Chapter 7 of the Community Atlas Existing Conditions.