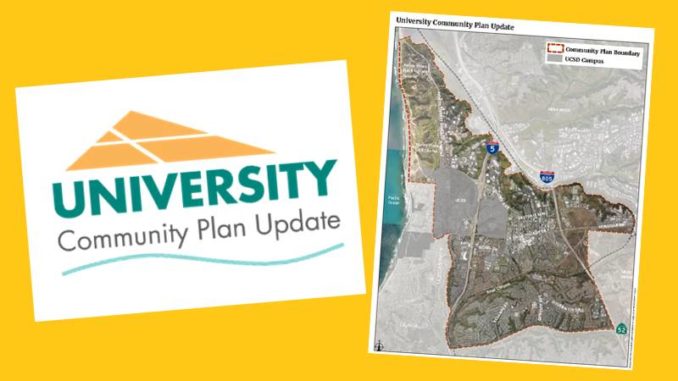 Update, 2/28/2019: If you are unable to attend today's Planning Commission hearing, you can provide a public comment via email to the Planning Commission. 
Email : planningcommission@sandiego.gov 
Subject line : Re: Item No. 4 on the docket of February 28, 2019: Update of the University Community Plan (UCP) 
---
The University City community plan is undergoing its first update since 1987. The Planning Department has scheduled a workshop with the City of San Diego Planning Commission to provide early input on the University Community Plan Update. This workshop is open to the public and you may fill out a speaker slip (3 minutes per person) if you would like to provide comments to the Planning Commission.
The workshop is scheduled for February 28, 2019, at 9:00 AM.  The meeting will be held at the City Administration Building, City Council Chambers, 12th floor, 202 C St, in downtown San Diego.
---
For related posts, visit https://www.universitycitynews.org/category/ucpg/
If you have any questions, please contact UCCA president Barry Bernstein at 858-453-3713, or email UCCA's representative to the Community Plan Update Subcommittee Katie Rodolico at KTNelson@yahoo.com