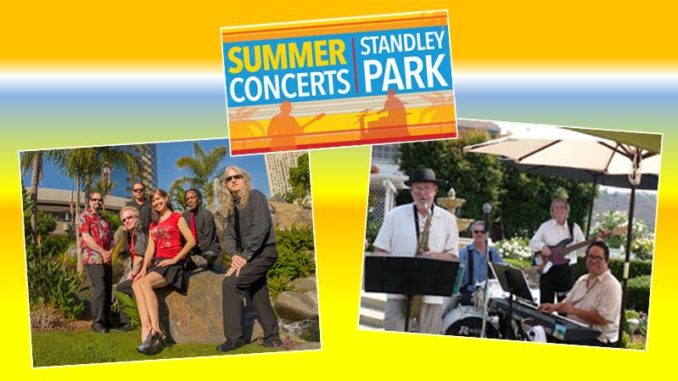 Don't miss out! Your friends, family and neighbors are sure to be there. You should be too! Hope to see you at the two remaining Summer Concerts at Standley Park.
Y3K performs on Sunday, August 18 and specializes in familiar and fun live dance hits from 80's, 90's to today, along with the classic oldies. With three lead vocalists, 4 part harmony, male and female vocalists, keyboards, guitar, bass, drums and percussion, Y3K has the tools and talent to cover the hits from any decade, so everyone joins in the fun.
Forecast performs on Sunday, August 25 and is known for their wide variety of jazz styles with their own unique sound featuring contemporary Jazz & Funk, Brazilian and Swing along with Classic Jazz & Standards from the Great American Songbook. This year they promise to play a variety of groove-oriented, funky jams so bring your dancing shoes.
UCCA will honor its many volunteers during the August 25 intermission.
The 2019 Summer Concert Series consists of seven concerts featuring a variety of musical styles. All concerts are scheduled for Sunday evenings at Standley Park, 3585 Governor Drive, in University City. Sound check and warmup begins at 4:30; concert from 5 to 7 PM.
Standley Park is a fun and family friendly venue with playground and large grassy area. Bring a lawn chair or blanket, snacks and drinks, and enjoy a lovely evening with friends and neighbors in University City. Arrive early to pick out a favorite spot in the shade. Don't forget your dancing shoes! Please note that concerts are subject to cancellation due to inclement weather.
Thank you to Scripps Health, the Recreation Council, UCCA, and other local donors, for their generous donations to sponsor the 2019 Summer Concerts.