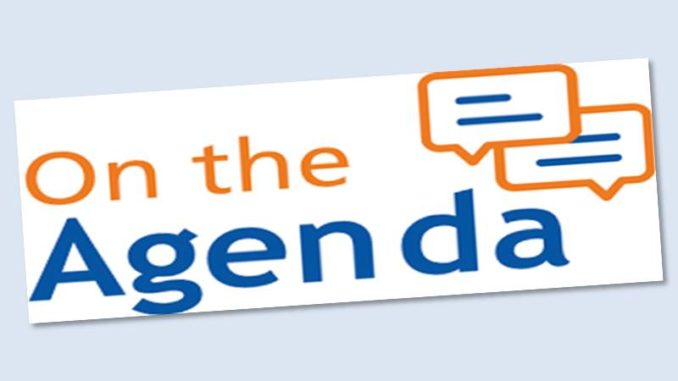 On Wednesday, September 11, 2019, UCCA hosts Neighbor Networking at 5:30, community meeting at 6 PM. All are welcome. Please join us. We meet at the Community Library at 4155 Governor Drive. Ongoing agenda items include updates from community and legislative representatives such as the Police and Fire departments and local elected and legislative leaders. Each meeting includes an Open Forum during which interests and concerns of community members may be expressed. The preliminary agenda for the September 11 meeting is below. If you have an agenda item to suggest or would like to speak during open forum, please use the Contact Us link at https://www.universitycitynews.org/contact-us-or-volunteer-in-uc/or email us at universitycitynews@gmail.com.
A G E N D A : Preliminary for September 11. 2019, University City Community Association, meeting at University Community Branch Library, 4155 Governor Drive, San Diego, CA 92122.
5:30- Neighbor Networking
6:00- MEETING CALLED TO ORDER-WELCOME- FLAG SALUTE
MOMENT OF SILENCE TO COMMEMORATE 9/11
6:05- Approval of July minutes (vote)
Approval of agenda (vote)
6:10- San Diego Police – Officer Bognuda
San Diego Fire/Rescue -TBD
6:15- Legislative representatives….
New rep. Miller Saltzman (CA State Sen.Toni Atkin's office) Chevelle Tate says goodbye
New rep. Justine Murray (Barbara Bry's office) formerly Del Mar/Carmel Valley rep.
Mat Gordon – Todd Gloria's office CA State Assembly
Erin Magee – Congressman Peter's office
Corrine Busta – Supervisor Gaspar's office
6:30- Open Forum: Request for funding, other items
Katie Dunahoo – EdUCate request for Oktoberfest
Julie Dennis – Curie Elem. request for Red Ribbon Week
UCCF September events/lawsuit update – Ruth DeSantis, Pres. UCCF
Emergency Preparation – Jemma Samala
UCPG meeting report – Chair Chris Nielsen
Other…..
6:45- President's comments
6:50- Treasurer's report – (vote) Don Hotz
6:55- Membership – Hallie Burch
7:00- COMMITTEE REPORTS:
Banners/ SD County Grant – Diane Ahern
Neighborhood Watch – Barbara Gellman
Beautification – Merle Langston
Newsletter – Don Hotz
7:30 Adjournment…..Next meeting, October 16 (one week later than usual)
Thank you to Don Hotz for tonight's refreshments