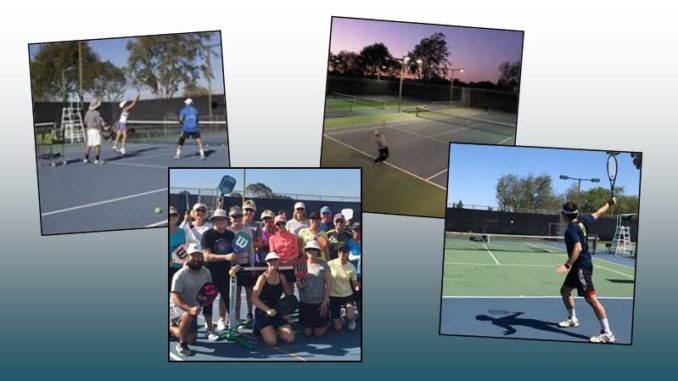 Courtesy of Bob Morrison: The University City Racquet Club (UCRC) at Standley Park, 3585 Governor Drive, offers opportunities to socialize as well as opportunities to play tennis or pickle ball right here in University City. You can also learn to play both sports and improve your game. Membership is open to all, and the courts are also available to the public.
UCRC is managed by Brad Vo who is also the head tennis instructor. He leads a team of three others, O'Neal Solema, Simon Shen, and Brian Ailes. All are certified instructors. Non-members pay $8 for tennis or $5 for pickle ball per person per day.
Pickleball Open Play is available Monday – Friday 9am-11am. Tennis classes on Tuesday evenings 6pm-7pm and Saturday mornings 10am-12noon.
Our hours of Operation are as follows:
Monday 8:30am-11:30am and 4pm-7pm
Tuesday 8:30am-11:30am and 4pm-7:30pm
Wednesday 8:30-11:30am and 4pm-7pm
Thursday 8:30am-11:30am and 4pm-7:30pm
Friday 8:30am-11:30am and 4pm-6:30pm
Saturday 9am-12noon
Sunday 9am-12noon
For more information, please stop by the UCRC clubhouse during open hours just west of the Standley Park Recreation Center at 3585 Governor Drive; or contact Brad Vo via email at Gtriangle.tennis@gmail.com.
---
The University City Racquet Club dates back to 1976 soon after Standley Park was completed. Before long however, the city decided that it would close down all of its tennis courts because of lack of funds. The UCRC officers, led by President Jorgen Heimberger, started negotiating a contract with the city to manage the courts for its members.
After two years of negotiating, a contract was signed allowing UCRC to operate the courts as a public/private club. Anyone can be a member by paying the annual membership, the public would have access to two courts for a daily fee, and the club would build a clubhouse and donate it to the city. A few years later, Ernie Lippe led the charge that met the last requirement. That contract became the template for the management of all of the city's courts.
---
For related information from University City News, visit https://www.universitycitynews.org/category/parks-recreation-dept/