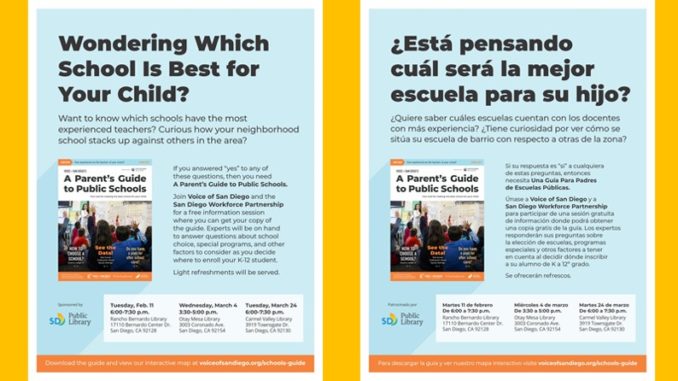 From Voice of San Diego and San Diego Public Library: Want to know which schools have the most experienced teachers? Curious how your neighborhood school stacks up against others in the area? Wondering which school is best for your child?
If you answered "yes" to any of these questions, then you need A Parent's Guide to Public Schools. Join Voice of San Diego and the San Diego Workforce Partnership for a free information session where you can get your copy of the guide.
Experts will be on hand to answer questions about school choice, special programs, and other factors to consider as you decide where to enroll your K-12 student. Light refreshments will be served.
Tuesday, February 11, 2020, 6:00-7:30 PM, Rancho Bernardo Library, 17110 Bernardo Center Dr. San Diego, CA 92128
Wednesday, March 4, 2020, 3:30-5:00 PM, Otay Mesa Library, 3003 Coronado Ave. San Diego, CA 92154
Tuesday, March 24, 2020, 6:00-7:30 PM, Carmel Valley Library, 3919 Townsgate Dr. San Diego, CA 92130
Download the guide and view our interactive map at voiceofsandiego.org/schools-guide
---
For related posts from UCCA, visit Choosing a School for Your Kids at https://www.universitycitynews.org/2019/07/26/choosing-a-school-for-your-kids-why-university-city-neighborhood-schools-are-the-best-choice/