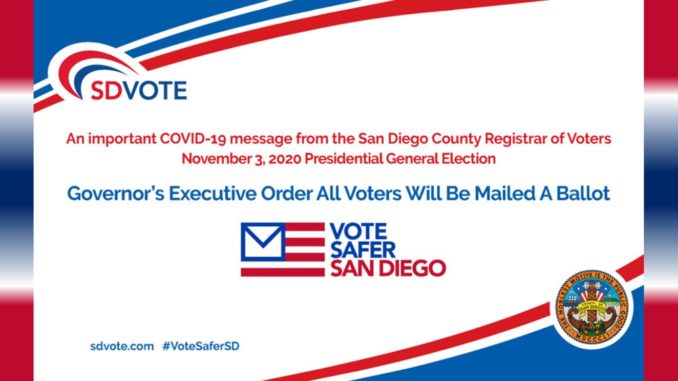 From the County News Center: The Registrar of Voters is sending postcards to over 1.8 million registered voters in San Diego County this week telling them to expect a mail ballot for the November 3, 2020 Presidential General Election. In light of COVID-19, the Governor signed two executive orders to send mail ballots to every active registered voter in California so they can exercise their right to vote in a safe, secure and accessible manner. Those who need to vote in person will also have that option.
Nearly 75% of the county's registered voters are already signed up to permanently receive their ballot by mail so the Registrar's Office is well positioned to manage this increase. Ballots will start going out in the mail the week of October 5, giving voters nearly a month to mark their ballot and return it before Election Day.
If you need to vote in person, polling places will be open for four days, October 31 through Election Day, November 3. Be prepared. There will be fewer locations than in prior elections, so your location has most likely changed.
For more information for those who want to check their voter registration status or need to vote in person, please visit the County News Center at https://www.countynewscenter.com/postcards-to-registered-voters-they-will-get-mail-ballots/