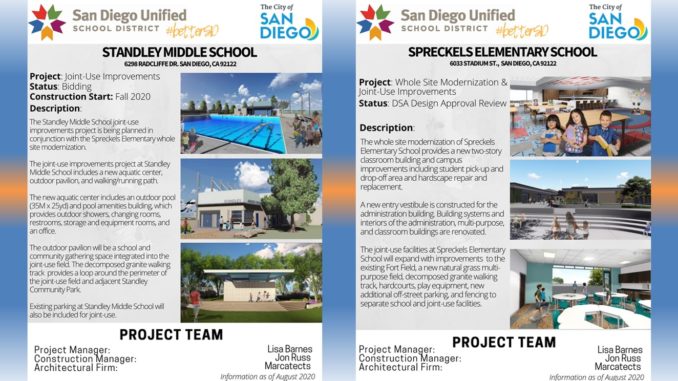 Planned joint-use improvements for Standley Middle include a new pool aquatic center, outdoor pavilion, and running/walking path. Spreckels Elementary will experience a whole site modernization.
From San Diego Unified School District: The Imagine UC 2020 Joint-Use Projects between the City of San Diego and the San Diego Unified School District will begin construction this Fall. The joint-use improvements are planned for Standley Middle School, Spreckels Elementary, and Standley Park for an area-wide site modernization.
Joint-use improvements at Standley Middle School and Standley Park includes a new aquatic center, outdoor pavilion, and running/walking path. The new aquatic center includes an outdoor pool (35 meters x 25 yards) and pool amenities building, which provides outdoor showers, changing rooms, restrooms, storage and equipment rooms, and an office.
The outdoor pavilion will be a school and community gathering space integrated into the joint-use field. The decomposed granite walking track provides a loop around the perimeter of the joint-use field and adjacent Standley Community Park. Existing parking at Standley Middle School will also be included for joint-use.
Spreckels Elementary school will experience a whole site modernization providing a new two-story classroom building and campus improvements including student pick-up and drop-off area and hard-scape repair and replacement. A new entry vestibule will be constructed for the administration building. Building systems and interiors of the administration, multi-purpose, and classroom buildings will be renovated.
The joint-use facilities at Spreckels will expand with improvements to the existing Fort Field, a new natural grass multi-purpose field, decomposed granite walking track, hard courts, play equipment, new additional off-street parking, and fencing to separate school and joint-use facilities.
---
Editor's note: Dr John Lee Evans (SDUSD board president) reports the board is scheduled to vote on final approval of the construction bid for the Standley Middle School project at their September 8 board meeting. Board approval is the final step before they can break ground. For information, visit https://sandiegounified.org/about/board_of_education/overview