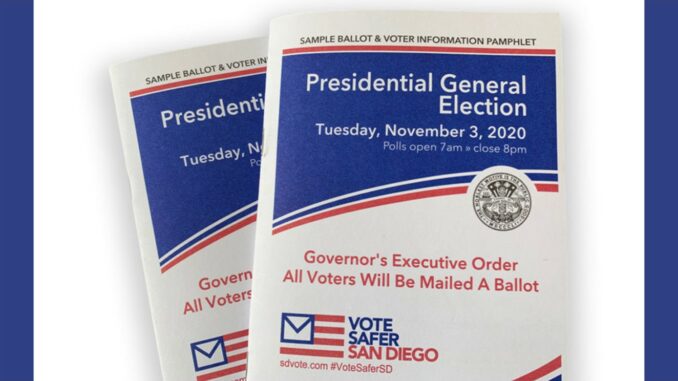 Sample Ballot and Voter Information Pamphlets have been sent to registered voters. The sample ballot pamphlet contains information on candidates and measures as well as critical information on how to vote safer in the upcoming election, including voting and returning the ballot mailed to each registered voter. If you are a registered voter and have not received your sample ballot, please visit the County News Center for more information at https://www.countynewscenter.com/sample-ballot-pamphlets-go-out-for-nov-3-election/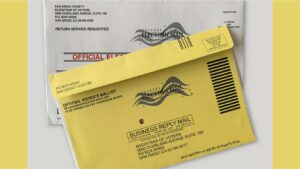 Ballots will be mailed to voters beginning the week of October 5, giving voters nearly a month to mark their ballot and return it before Election Day. The voter registration deadline is October 19 to vote in the November 3, 2020 election. Those who need to vote in person will also have that option. There will be fewer locations than in prior elections, so the location of your assigned poll has most likely changed.
Early Vote-in-Person begins at the Registrar of Voters, 5600 Overland Avenue, San Diego, CA, 92123, on October 5, 2020, and continues Monday through Friday, 8 AM to 5 PM.
Official Mail Ballot Drop-Off Locations in University City (92122) are open during normal business hours Tuesday, October 6 through November 3, 2020:
North University Community Library on Judicial Drive
University Community Library on Governor Drive
Super Poll Locations in University City (92122) are open October 31, November 1, and November 2, from 8 AM to 5 PM. On Election Day, November 3, Super Poll Locations in University City (92122) are open from 7 AM to 8 PM.
Doyle Recreation Center on Regents Road
Nobel Recreation Center on Judicial Drive
Standley Recreation Center on Governor Drive
For Election Information, including the complete lists of Official Mail Ballot Drop-Off and Super Poll Locations, visit https://www.sdvote.com/content/rov/en/elections/election_information.html
---
For related information from UCCA, visit https://www.universitycitynews.org/category/elections/