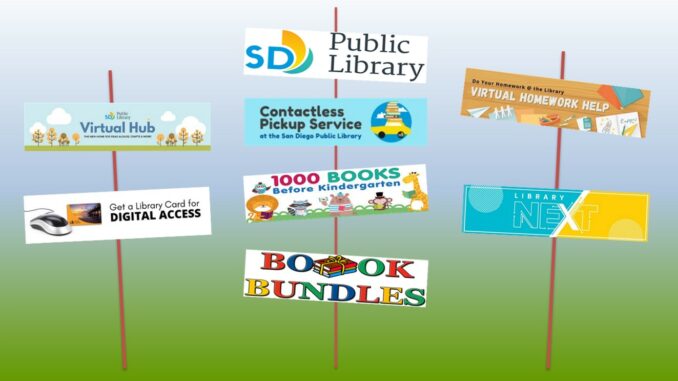 December 2020, San Diego Public Library News and Events from Melissa Martin, Manager, University Community Branch Library: The big highlights for this update are the OASIS programs, storytime with Mr. Larry, and the Library Holiday Shopping pop-up. Note that we are on the waiting list to have the timer for the parking lot lights reset and bulbs replaced. If this does not get done before December 15, we will adjust the hours of the Shopping Event to end before it gets dark.
We hope you are doing well and that you are staying healthy! Fortunately, the Library will continue its current level of services through the end of December – check the library website after the New Year for any news or updates. There are currently 13 branch libraries offering Contactless Pickup Service, including the University Community Library and the North University Community Library.
We hope you are enjoying the library programming for patrons of all ages. We are working behind the scenes to put together new programs all the time and welcome your suggestions on future programming.
Holiday Shopping: The Library Shop is "popping up" in UC! Stop by the library at 4155 Governor Dr. from 2pm-6pm** on Tuesday, December 15 to do some fun holiday shopping at the Library Shop pop-up. The Library Shop offers a carefully curated selection of literary-themed books, jewelry, children's merchandise, gifts and art. All proceeds benefit the San Diego Public Library system. The Shop supports local vendors and artisans whenever possible. The Library Shop is a partnership between the San Diego Public Library Foundation and the Friends of the Library.**Closing time is subject to change.
OASIS San Diego: Classes are geared toward adults 55+ (although all are welcome) and will be held live on Zoom on the third Wednesday of the month at 6pm. There is no fee for the class but registration is required through the OASIS San Diego website (san-diego.oasisnet.org/). The next class is scheduled for December 16: The Great Influenza and COVID-19: Parallels and Predictions by Philip J. Goscienski, M.D.
Storytime with Mr. Larry: The UC Library is now offering storytimes every Thursday morning at 10:30 a.m. on our Facebook page! Because we can't be together for storytime in the library, libraries have been given permission by several publishers to read popular titles and share them with you online. The storytimes are pre-recorded so you can watch them at any time. Follow the UC Library page on Facebook so you can see them all!
Craft kits for kids: Prepackaged supplies in bags with directions on how to make fun crafts – we have new selections every month.
UC Book Bundles: We have added current popular adult and children's magazines and holiday books to the Book Bundles! Materials in the bundles are pre-selected and bagged for quick check-out. Each bundle is numbered, so you can keep track of the bags you've already borrowed. New juvenile titles will arrive after the new year. Check out the display board at the library to make your selection!
Virtual Library NExT Courses: Register for fun online programs which are being held through December 19th with live instruction via Zoom. If supplies are needed for a course you will receive an email directing you to a Contactless Pickup Service or In-Person Library Service location to pick up your supplies. Zoom links will be emailed out with a reminder email. Library NExT (Network of Education x Training) is a series of workshops for elementary, middle and high school students on topics including robotics, circuits and 64 + other STEAM subjects. Please note: class sizes are limited and fill up quickly. This San Diego Public Library program is a collaboration with UC San Diego Extension and Sally Ride Science. For more information, visit https://www.sandiego.gov/librarynext
Virtual Homework Help: The Do Your Homework @ the Library Virtual Homework Help ​is available 6 days a week to serve K-8th grade students. Homework help is available to students and their families for free. Math, English and science help will be available​Monday-Thursday from 10:00 a.m. to 1:00 p.m. and 2:30 p.m. to 5:30 p.m. Additional help in Spanish and weekend hours are available. Email registration is required to connect with the DYH@L Virtual Homework Help program. If you have questions or are interested in volunteering as a homework coach, contact the Do Your Homework @ the Library program at 619-238-6687. For more information and the full Virtual Homework Help schedule, go to: sandiego.gov/public-library/kidsandteens/homework.
How to get a library card: You can apply for a library card online and be assigned a digital library card number that will expire after 30 days. Apply at: sandiego.gov/blog/digital-library-card. Customers may convert their digital library card into a physical library card by contacting any of our In-Person or Contactless Pickup Service locations. You can use the temporary digital card right away to place holds and download materials (such as ebooks, eaudiobooks and digital magazines), use electronic databases, take online classes, and much more.
The San Diego Public Library Virtual Hub: A Facebook group where Library Staff and partnering organizations offer daily virtual programs for all ages including: read-alouds, crafts & DIY, book talks, and more! You might be surprised to recognize some of the faces! sandiego.gov/public-library/sdplvirtual#undefined
---
---
For related posts, visit https://www.universitycitynews.org/category/library/