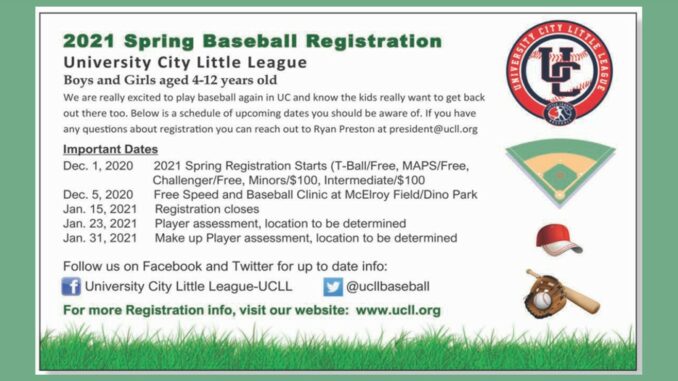 From Ryan Preston, President – University City Little League: We hope you and your family are doing well at this time. It has been a while since we have had any baseball activities in University City and our new Board of Directors has been working hard to ensure we can play baseball this coming spring. We are optimistic we will be able to play games this spring and are working in that direction to make sure we can have a fun and safe season.
With that said, we are very excited to announce an upcoming baseball and agility skills clinic on Saturday, December 5th from 1:00pm -4:00pm. For this clinic, we have secured some special guests from Parisi Speed School, UCSD Baseball, Canyonside Cages and are working on a few surprise guests to really make this event fun for the kids and provide some real skills training which they can take with them the rest of their sports carriers.
This clinic will focus on speed and agility for half of the clinic and specific baseball stations to work on shaking off the baseball cobwebs. This clinic is open for all ages 4 to 12 (you do not have to be a current UCLL Player, all kids are welcome) and we will be tailoring the clinic to be fun for each age group.
Registration is still open but don't delay to secure your spot! Register today at https://www.signupgenius.com/go/20f084aada628a3f85-ucll. We will send a reminder email and a waiver you will need to bring to the field when you sign your child in. Face masks are not required for the youth participants, but they can wear them if they/you feel more comfortable.
All adults and coaches will be wearing masks during the clinic, as we want to ensure everyone is safe and comfortable with the clinic set up. Don't hesitate to reach out to President Ryan Preston at presidetn@ucll.org if you have any follow up questions or concerns. We are really excited to be gearing up to play some baseball this coming year and think this clinic is a great way to kick the 2021 season off.
---
For more information, visit the UCLL website www.ucll.org
See also the UCLL feature story about the Spring 2021 season in the December University City News available at https://www.universitycitynews.org/ucca-newsletter-archives/