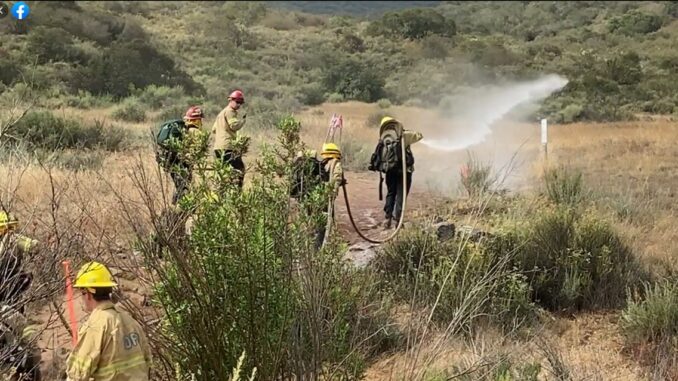 From Facebook San Diego Fire-Rescue Department @SDFDofficial: In May, SD Fire-Rescue firefighters completed a specially designed in-service training (IST) focused on wildland firefighting. The scenario is an immediate need strike team response to a brush fire in Mission Trails Regional Park and includes an incident within an incident (IWI) during which firefighters simulate a trapped crew with burn injuries. Developing situational awareness, managing risk, communication, and teamwork are just some of the concepts addressed in this IST. Watch the related video on Facebook at https://fb.watch/5W4t3sYaFs/
During the exercise, members of the strike team performing a progressive hose lay are overrun by fire and air resources are requested. A few firefighters are cut off from their escape route to their safety zone and are forced to deploy their fire shelters just before an SDFD helicopter performs an emergency water drop. Once the crew is safe, an assessment of their injuries takes place and a hoist capable helicopter rescue is ordered to take two seriously injured firefighters to the hospital.
Scenarios created for IST are the result of input from the SDFD Training Division and Operations personnel with wildland fire experience. This particular scenario was created based on fire weather, fuels, and topography that created extreme fire behavior on past incidents, such as the Cedar Fire in 2003. Performing the skills required to complete this IST in Mission Trails Park gives our firefighters valuable knowledge and skills. Fighting brush fires is very strenuous work.
The firefighters carry hose packs and other equipment long distances across steep and uneven terrain. It's not unusual for crews to work a brush fire for several hours and to be away from home for as long as 21 days. This scenario did not include high temperatures, Santa Ana winds, smoke and heat from the fire itself. Imagine those elements combined with what you see in the video – it's a dangerous mix. Once the scenario is completed, there is an after-action review that is intended to highlight the lessons learned for future incidents.
In addition to this IST, SDFD firefighters participate in a county-wide wildland drill, as well as other types of wildland training exercises throughout the year. The exceedingly dry brush and inevitable fire weather conditions we will experience makes this training so vital to keeping our firefighters and members of the public safe.
This is just one example of what SDFD firefighters do in order to be ready for wildfires. Are you ready for the peak of our wildfire season? Visit sandiego.gov/fire to download our Ready, Set, Go! Wildland Fire Action Guide available in English and Spanish. The guide is filled with valuable information to help you be prepared and strategies to keep you and your family safe.
Special thanks: City of SD Park Rangers for their collaboration and assistance. SDFD Battalion Chiefs D. Allen and E. Kinnamon and Captains C. West and J. Williams