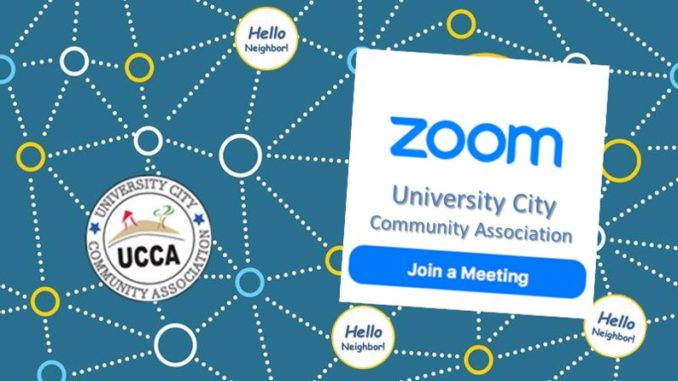 From UCCA president Diane Ahern: UCCA wishes all in our community a healthy and happy and safe Holiday Season. Please note the tentative agenda for the University City Community Association meeting on December 8, 6 PM via Zoom. This is a community meeting and all are welcome. If you have an agenda item to suggest or you wish to speak during public forum, please email us at UniversityCityNews@gmail.com.
The University City Community Association (UCCA) will meet via Zoom on Wednesday, December 8, at 6 PM. The waiting room will be open at 5:45 PM with a prompt start at 6 PM. Click this link to join the meeting on Wednesday at 5:45 PM: https://us02web.zoom.us/j/8587743266
Preliminary agenda items include:
6:00 PM – Welcome; president's and board member announcements
6:05 PM – Approval of November minutes – vote
6:06 PM – Approval of agenda – vote
6:10 PM – SD Police Department / Public Safety
6:20 PM – Legislative Liaison and Community Leader Reports
6:30 PM – Community Plan; Community Planning Group; Redistricting – presenter Chris Nielsen, Chair, UCPG
6:40 PM – Dinner with Santa and Holiday Celebration – presenter Barry Bernstein, Immediate Past President
6:50 PM – Open Forum – speakers limited to 3 minutes
7:00 PM – UCCA Committee Reports

Treasurer's Report – Jemma Samala
Membership Report – Hallie Burch
Neighborhood Watch – Barbara Gellman
Beautification – Merle Langston
CASA – Diane Ahern
Publicity / Promotion – Diane Ahern
Newsletter – Jemma Samala & Terri Day
North UC Liaison – Bill Beck
Parliamentarian / Network of Town Councils – Mack Langston
Bylaws – first look – Jim Beshears
Board member reports – Diane Ahern

7:20 PM – Old Business / New Business
7:30 PM – Adjourn
Happy Holidays to all; please join us at Dinner with Santa and the Holiday Celebration at Standley Park on Friday, December 10, 2021
Next UCCA meeting will be on Wednesday, January 12, 2022, at 6 PM, via Zoom.