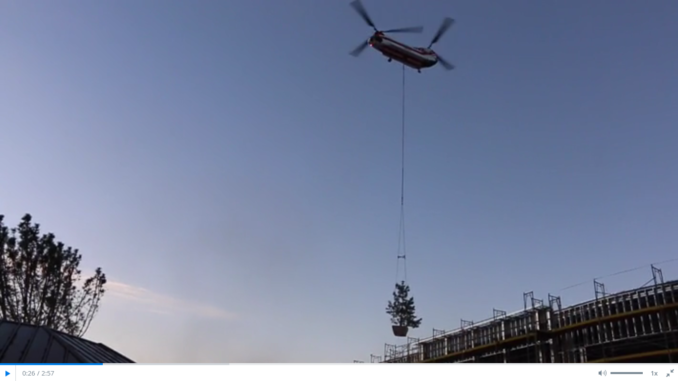 Earlier this month, nearby neighbors heard and saw a large helicopter at Westfield UTC Mall. Information and images courtesy of Westfield UTC; additional information provided by Greg Barnes:
A total of sixteen full grown trees were airlifted into Westfield UTC from nurseries throughout the United States to line the walkways in the new development. Among those sixteen trees, were several olive and coral trees. Later this year various palm trees will be brought into the new development as well.

In addition, Greg Barnes reports that a security worker onsite informed him that Westfield UTC used the helicopter to place "trees that had been preserved when they tore up the parking lots and took down buildings. They are moving them from the storage area, where they maintained them, to areas in the new construction and in a few areas of the existing mall. Rather than put them on a flatbed, where they would have to be put on their side (and possible damage) and where it would be hard to get them into some of the places they are to go, they are using the helicopter to pick them straight up and lower them to the exact spot in the new construction."
View submitted photos and videos, courtesy of Westfield UTC, at https://www.dropbox.com/sh/pm2hfg2fqb304x3/AADU1nEPNnFHusaS2m2s1dPna?dl=0
Phase II of Westfield UTC's ongoing expansion will be complete October 2017. The expansion will capture the look and feel of Westfield UTC's upscale beach side environment with more than 90 new culinary and retail tenants, an indoor and outdoor event space overlooking The Pointe, a palm lined valet drop off with a contemporary arrival lounge, and more.
---
Notes: Join UCCA today at http://www.universitycitynews.org/join-ucca-today/
If you have a news item to share, please submit your story through UCCA's Contact Us link at http://www.universitycitynews.org/contact-us-or-volunteer-in-uc/
Review article guidelines at http://www.universitycitynews.org/ucca-newsletter-archives/
What do Facebook, Twitter, Nextdoor, ImproveUC and UCCA have in common? They are all ways neighbors can connect with neighbors and the University City community. Create a post, start a conversation, share the news, organize an event, keep in touch, take a look: