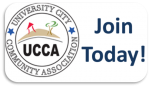 About Us: As described in our by laws, University City Community Association (UCCA) is a non-profit (501c4) organization funded through membership dues, which provides and promotes the civic, cultural, social, educational and recreational development and improvement in University City (a neighborhood of San Diego, CA); and provides a forum where the interests of residents may be expressed and contributions made to the protection of life and property in the community. UCCA is the source for University City News.
---
Request for Funding and/or Donation Request:
Worthwhile member individuals or organizations may request funding from UCCA by completing and submitting a Request for Funding form and making a verbal presentation at a UCCA meeting.

A verbal Request for Funding must be made during the open forum section UCCA's monthly meetings.
The Request for Funding form must be received at least 7 days prior to the verbal request.
---
2018 UCCA Board Members
Executive Board (elected November 2017 with 2 year term)
President: Barry Bernstein, apdrfn@aol.com, 858-453-3713
Vice-President: Mack Langston, langstonmack@gmail.com
Secretary: Deanna Ratnikova, deanna.ratnikova@gmail.com
Treasurer: Don Hotz, don.hotz@yahoo.com
Appointed Positions
Beautification: Merle Langston, Chair, merlelangston1@gmail.com; and Barbara Gellman, Co-Chair, bggellman@yahoo.com
Corresponding Secretary: OPEN
Holiday Tree Lighting Coordinator: Darlene Ventimiglia, darleneven@yahoo.com
Membership: Hallie Burch, UCCAmembership@gmail.com
Neighborhood Watch: Barbara Gellman, bggellman@yahoo.com
Newsletter Chair/Distributor: Don Hotz, don.hotz@yahoo.com
*Newsletter Ads: Terri Day, uccaADS@hotmail.com
*Newsletter Editor: Jemma Samala, UCCAEditor@gmail.com
Publicity & Promotion; Webmaster: Diane Ahern, ahern.diane@gmail.com
Parliamentarian and ImproveUC/UCCF Rep.: Mack Langston, langstonmack@gmail.com
Special Events/Banners: Barbara Henshaw, barbarahenshaw@gmail.com
*Non-Voting Member
---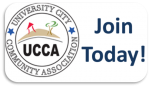 UCCA membership dues: Your membership dues help to support many local worthwhile organizations, (i.e. public schools' fundraising, Standley Park, EdUCate, Neighborhood Watch, lmproveUC, Buy Local) as well as many special projects and activities such as street median beautification, pedestrian and motorist safety, painted electrical boxes and street banners, 4th of July Celebration, summer concerts, December holiday tree lighting, and our monthly newsletter delivered to your south UC home and/or business, libraries and recreation centers.
Monthly meetings: UCCA meets on the second Wednesday, 6-8 PM, at the Community Library on Governor, except in August and December. All are welcome to join us at 5:30 PM for networking; formal meeting begins at 6 PM.
Webmaster: universitycitynews@gmail.com
Mailing Address: UCCA, 3268 Governor Dr., Box 121, San Diego, CA 92122
Voice Mail: 858-412-0786
---
What do Facebook, Twitter, Nextdoor, ImproveUC and UCCA have in common? They are all ways neighbors can connect with neighbors and the University City community. Create a post, start a conversation, share the news, organize an event, keep in touch, take a look: