July 5, 2023: Were you there? Thanks to all the community volunteers who helped create the memories and make this one of the best UC Celebrations ever! Courtesy of Gregory G. Hom, OD, MPH, FAAO, Inc., please take a look at some of the photos he is sharing with us. As always, they are set up for free downloads. Thank you Greg.
---
❤️🤍💙We need you! It takes lots of parents, families, and neighbors … all volunteering together … to create lasting memories for our children and to pull off an event like the UC Celebration. Please sign up to volunteer today: https://volunteersignup.org/WFCM4
---
💖🤍💙 For the most up-to-date information about the 2023 UC Celebration, visit: https://uccelebration.com/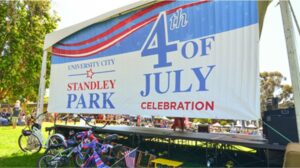 Have you heard? It's back! The Run, the Food, the Parade, the Games, the Booths, the Opportunity Draw Gift Baskets, … and so Much More!
For more information, visit our website at  uccelebration.com and follow us on Facebook at https://www.facebook.com/UCCelebration
💖🤍💙 Don't forget, the UC Celebration is a fundraiser so bring money; there are lots of opportunities donate and make purchases and to support the Parks Council. Registration is required for the 5K; tickets are required for many of the kids games and activities. There is an opportunity draw for gift baskets. Donations are accepted for the breakfast.
Beer for purchase at the beer garden. Food vendors and others will be available for those who wish to make purchases. All proceeds from the UC Celebration support the UC Parks Council and help to fund events such as the Summer Concerts.
💖🤍💙4th of JULY SCHEDULE – preliminary
6:30am Walk up signups for the 5Kand 1-mile fun Run
7:45 1-mile fun run begins, 8:00 – 5K run begin
8:30 to 10:30 Pancake breakfast
9:00 Book barn ticket sales begin for opportunity drawings
10:30 Bike and Pet Parade lead by the Standley Middle School band
11:00 "Official" opening with color guard and playing of the National anthem; Car Show; Beer Garden opens
11:30 Field games begin with sack rack; Old Town Trolley Service begins on Governor Drive
12:00pm – FREE swim at Swanson Memorial Pool, Kids Fun Zone opens; and Hawaiian/Polynesian revue
1:00 State Senator Toni Atkins and more field games – balloon toss
🎶 2:00 The Phil Marcus Trio
🎶 3:00 The Resonators
4:00 more field games with tug of war;  Opportunity Drawings announced
7:30 Trolley Service on Governor ends
❤️🤍💙New for 2023! The Y3K concert at 5 PM will be at new Pavilion Stage at Standley Middle School in the grassy area next to the Middle School parking lot on Governor Drive.
💖🤍💙 Getting to the UC Celebration on the 4th of July at Standley Park:
PARK AND RIDE: Parking at the UC Celebration will be limited due to construction at Spreckels and restrictions at Standley and at Swanson. For your planning purposes, please note that on-the-street parking is available along Governor Drive and on Mercer; and general at the Standley Middle School parking lot on Radcliffe.
OLD TOWN TROLLEY: Additional parking is available adjacent to the Old Town Trolley stops. Don't drive; take the free shuttle aboard the Old Town Trolley, operating along Governor Drive from 11 AM to 7:30 PM. The Old Town Trolley makes a continuous loop on Governor from the I-805 Park n Ride to Stresemann with stops along Governor. Hop on and hop off at: 

The Park and Ride at 805
Corner of Gullstrand St – both sides
Curie Elementary School and across street at Urgent Care
Corner of Mercer Ave and across street in front of Standley Park
Corner of Regents Rd – both sides
Corner of Stresemann Ave at Church of Latter Day Saints