Congrats to all our winners! The 2019 race results:
5K Race: UC4thRace_4July2019 5k
1M Race: UC4thRace_4July2019 mile
UC Celebration 2019: were you there? Check out https://www.universitycitynews.org/2019/07/05/uc-celebration-2019-neighbors-enjoy-a-beautiful-day-at-standley-park/
---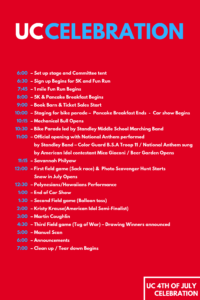 Here's the updated schedule from www.uccelebration.com ! See you on the 4th of July !
UC Celebration 2019 festivities kick off bright and early on the 4th of July with the Pancake Breakfast, by the Knights of Columbus, starting at 7:30 AM by the Standley Park Recreation Center, 3585 Governor Drive. The smell of pancakes and sausages cooking will tempt the 1-Mile Fun Run and 5k Race participants to finish up as they begin races at 7:45 and 8:00 AM respectively. Throughout the day, the University City community will be entertained by musicians and performances, be able to participate in field games, eat tasty dishes from food vendors, and even go swimming at Swanson Pool. Manual Scan closes out the day with a special show from 5 to 7 PM. The band will include mini sets of Kinks and Who classics as well as some of their own songs and favorites. (This is an entertainment update: there is no band scheduled to start playing at 7 PM; all entertainment ends at 7 PM). The Trolley runs the length of Governor Drive until 7:30 PM.
But first, here's your to-do list to help to make this the best UC Celebration ever:
Volunteer to help; do you two hours to give? Please sign up to volunteer at https://volunteersignup.org/CCXL3
Register for the 1-Mile Fun Run/5K Race at www.UCCelebration.com and click on the Sign Up for 5K and Fun Run button..
Donate books for the Book Barn at Standley Recreation Center on July 3.
Apply to show your UC Car by contacting David Wright wright@caliberhomeloans.com.
For more information, visit www.UCCelebration.com
And here are all the 4th of July UC Celebration details; (we never know who or what might show up on the 4th of July so this schedule is subject to change without notice):
1-Mile Fun Run/5K Race: Participants can register online at uccelebration.com, at the Rec Center on July 3 from 5:00-7:00pm, or on July 4 starting at 6:30am by Swanson Pool. The 1-Mile starts at 7:45am, and the 5K at 8:00am. Cost is $15 for the 5K, and $10 for the 1-Mile Fun Run.
Beer and Wine Garden: Open 12:00noon to 7:00pm at the Gazebo. Must be 21 and older to enter.
Bike and Pet Parade: Starts at 10:30am by Standley Middle School and will be led by the Standley Middle School Marching Band. Decorate your bikes and dress up your pets.
Book Barn: The popular Book Barn opens at 9 AM so get there early for the best selection. Donations for books, especially children's books, are being requested. Please no textbooks, encyclopedias, dictionaries, manuals, or tapes of any kind. Books can be dropped off anytime at 4315 Huggins Street, or delivered to Standley Rec Center on July 3.
Booths: Shop for crafts, jewelry, gifts. Get computer, massage, pet service referrals. Obtain info on community groups, candidates and voter registration. You can spend all day walking around the vendor square.
Current booth vendors and groups (updated July 1) include:

Ahearn Enterprises – ride the Mechanical Bull
Change Begins with Me – civic engagement
Chabad of UC – Challah Braiding, community awareness
C Yoga – Yoga demo
Dogtopia – You got a dog? We got info and coupons
EdUCate! – Supporting our University City public schools
Friends of Rose Canyon – Education info, canyon animals
G&B Minerals -Fabric items, potholders, place-mats, cloth baby books
Golden Triangle Toastmasters – Public speaking, leadership skills
Grace City Church – Community awareness
Hands for Life – Health assessments
Heavenly Vessels – Succulent plants; jewelry
JCC Jewish Community Center – Maccabi Games 2020; community center info
JK Computers – Computers, phones, drones
Joe LaCava for City Council – City Council candidate
Mary K by Judy K – Mary Kay Cosmetics
Puentes for City Council – City Council candidate
Pure Water San Diego – Program info, games and giveaways
Ravine Glass – Glass decor and jewelry
SANDAG / SHIFT San Diego – Mid-Coast Trolley information
Shaded Bliss – Vintage and stylish shades
Siri Thai Bodywork – Thai Massage and Bodywork
Spreckels Elementary – opening early with complimentary decorations for bike and pet parade
Torrey Pines Church – kids games and prizes
Trees 1000 Foundation – Free trees for homeowners, tree information
UC Democratic Club (withdrawn)
UC Girls Scouts – Crafts and information
UCCA Community Association/Neighborhood Watch/CASA Safe Aviation/SDUSD – advocacy, safety, crime prevention, Standley pool and park upgrades (Imagine 2020)
UCCF Community Foundation – community advocacy
UCHS High School PTSA 

(withdrawn) 

UCPG Planning Group – Community Plan Update
US Studios of Defense – Karate
Wyle Williamson – Succulents and fruit trees

Children's Area: Open from 12:00noon to 4:00pm. Activities include the Rock Wall, Monkey Bridge, Obstacle Course, Jumpers, and Bungee Run. Tickets required for each activity, and can be purchased at the event. Each activity will cost 1 – 3 tickets; tickets cost $1 each.
Entertainment (update): Stage performers throughout the day include: Savannah Philyaw, Polynesian/Hawaiian Dancers, Kristy Krause, and Martin Coughlin. The evening headline band is Manual Scan from 5 to 7pm. (This is an entertainment update: there is no band scheduled to start playing at 7pm; all entertainment ends at 7pm). The Trolley runs the length of Governor Drive until 7:30pm.
Field Games: Played throughout the day in front of the stage, includes: Sack Races, Balloon Toss, Tug of War.
Food: No need to pack a picnic, there will be plenty of food for you and your guests. Start off with the Pancake Breakfast from 7:30 to 10:00am. And then throughout the day and evening, get your hot dogs from UC Little League, nachos from UC Del Sol, Up in Smoke BBQ, and the Flavors of Africa. Plus root beer floats from the Boy Scouts, some Finest City Kettlecorn, treats from Caked Bakery, and cool down at the Ice Cream Wheelers truck. (Suggestion – wear loose clothing.)
Official Opening: 11:00am – the National Anthem will be performed by the Standley Band with Color Guard.
Opportunity Drawing: Get your tickets for chances to win all types of baskets – dining, activities, services, etc.
Photo Scavenger Hunt: The hunt starts at 11:30am. Sign up at the Scavenger Hunt table in advance of the start.
Snow Play: This popular event last year returns! Find the snow behind the rec center starting at 1:00pm, until the snow melts away. Children will enjoy snow ball and sledding fun! The Snow Play area is sponsored by Nancy Beck, University City Specialist.
Swim at Swanson Pool: The UC Celebration sponsors free swim time at Swanson Pool from 12:00noon- 4:00pm. Open to all, bring your swimsuits and towels.
Trolley Service: Free Old Town Trolley service, sponsored by Coldwell Banker, is available throughout the day until 7:30pm with stops all along Governor Drive, look for the trolley stop signs. No need to deal with finding a parking spot, or driving after the Beer Garden.
UC Car Show: Vote for your favorite car at the UC Celebration Classic Car Show, which will be located in the Spreckels Parking Lot. Awards will be given to Kid's Choice, People's Choice, and most BadAss – make sure to come by and vote! Auto enthusiasts are invited to show off your pride and joy. Space is limited. Contact David Wright david.wright@caliberhomeloans.com. The UC Car Show is run by the UC Cars & Coffee group.
Sponsors: Thanks to our generous event sponsors – UCCA and Regency Centers/Costa Verde. Please make sure to thank them and consider becoming members.
Volunteers: People are the backbone of the UC community and of the UC Celebration. We need volunteers to make the day a success. A quick two-hour shift is all we ask for: set up and tear down, beer garden, children's area, field games, parking lot monitors, pet & bike parade, and the 1-Mile Fun Run and 5K Walk/Run. Please take a look at the volunteer link on www.UCCelebration.com.
Here's your to-do list to help to make this the best UC Celebration ever:
Thanks to all who make the UC Celebration a fun and fabulous annual neighborhood event. The UC Celebration is a fund raising activity sponsored by the Standley Park Recreation Council to help support events at Standley Park including the Summer Concert series.
---
For more UC Celebration pictures and videos, like us on Facebook at https://www.facebook.com/UCCelebration/