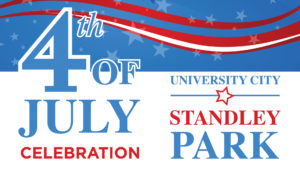 June 2021 Update: Both the 4th of July UC Celebration and the Summer Concerts are dependent on the re-opening of the Standley Park Recreation Center. As of June 4, 2021, the recreation center remains closed.
An email statement from Councilmember Joe LaCava's office, dated 06/04/2021, reads in part:
The City just learned recently that the Governor has said that capacity restrictions will be lifted on June 15th.  But we don't know what restrictions will remain for social distancing and mask wearing.  Also, we do not know if/when the County of SD will also follow the new State guidelines.  The City has instructed staff to not issue permits for outdoor gatherings of over 50 people (per current County/State guidelines) until we have confirmation from the County regarding events.

The organizer may hold an event per the CDPH guidance for Outdoor Seated Live Events https://files.covid19.ca.gov/pdf/guidance-live-performances–en.pdf .  The organizers must have reservations and have assigned seating.  Also, social distancing and face coverings must be enforced by the organizer.

I assure you that City staff would like to say yes and issue permits to our regular user groups, but we must follow State and County guidelines.  As soon as we receive new direction, we will move to implement changes.
For current information on the status of city services, including the Recreation Centers, Libraries, and Special Event Permits, visit https://www.sandiego.gov/status
---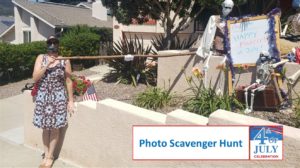 July 14, 2020 – Take a look! the UC Celebration 2020 Virtual Photo Race Results are In!! https://www.universitycitynews.org/2020/07/14/take-a-look-the-uc-celebration-2020-virtual-photo-race-results-are-in/
---
July 4, 2020 — Let's Go! Here are the Clues for the 2020 UC Celebration 4th of July Photo Scavenger Hunt: https://www.universitycitynews.org/2020/07/04/lets-go-here-are-the-clues-for-the-2020-uc-celebration-4th-of-july-photo-scavenger-hunt/
---
4th of July Virtual Photo Scavenger Hunt: While the traditional UC Celebration at Standley Park is cancelled for 2020, the Photo Scavenger Hunt will continue in a virtual format. Photo Scavenger Hunt creator James Floyd will prepare the clues as usual. The clues will be posted on the UCCelebration.com website and on https://www.universitycitynews.org/uc-4th-of-july/ on the morning of July 4. The Photo Scavenger Hunt will be a fun family activity on the 4th and during the holiday weekend. Stay tuned for more info and follow @UCCelebration on Facebook.
The health and safety of those in our community is most important. When participating in this activity with those outside your family household, please follow current COVID-19 related restrictions: maintain a distance of six feet or wear a face covering over mouth and nose, routinely clean high-touch surfaces and wash your hands often.
From James Floyd at sdrocketrace@gmail.com:
Rules for UC Celebration 2020 Virtual Photo Scavenger Hunt: Since we all can't join together for the annual photo scavenger hunt race held at UC Celebration on the 4th of July, we've got a virtual photo race for everyone in University City. You still have to go outside to take photos of the answers, but you can now solve and photograph at your own pace – no time pressure! And you can have a team of any size, so you can work alone or get your friends or family members to help out. If you haven't done one of the UC Photo Races before, this is a good chance to try out the game without having to race on foot.
How To: On July 4th , go to UCCelebration.com and you will see a set of ten clues. Each of the clues will lead you to a location or landmark in University City, and there might even be multiple locations that fit the clue criteria – you only need to find one of them! Go to each location and take a photo of your entire team there. Checkpoint locations don't need to be in order, but do need to be clearly identifiable. Unlike the regular annual photo race, you don't need to travel on foot, so feel free to use bikes, cars, scooters, or whatever.
Finish Line: Once you've taken all the photos that fit the clues, cross the finish line by emailing them along with your team's name to sdrocketrace@gmail.com – you can either attach the photos or link to them on Instagram or Facebook or elsewhere online that's publicly viewable. We'll post the best photos on the UC Celebration site.
---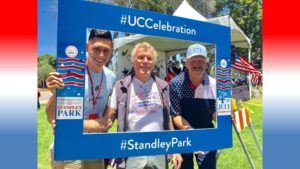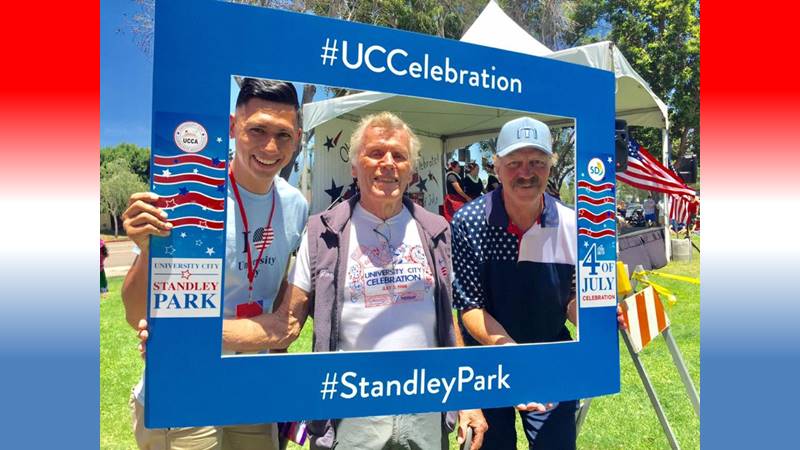 2020 Event Notice!  The 2020 4th of July University City (UC) Celebration has been cancelled. Due to City and County health guidelines related to COVID-19, San Diego public libraries, public schools, recreation centers and pools are currently closed. For the current status of Parks & Recreation facilities, visit https://www.sandiego.gov/status.
In alignment with the State of California's Stay-at-Home Order prohibiting large events and gatherings, and prioritizing public health, the University City Parks Council (UCPC) and the UC Celebration Committee (UCCC) jointly announce that the 2020 UC Celebration will not go on as planned on the 4th of July at Standley Park. What follows is the text of an email that Chair Randall Tonini sent out to the UC Celebration Committee on Tuesday, May 12, 2020. Randall is expected to report out at the May 13 UCCA meeting.
###
Hi everyone,
First, I'd like to thank you for your support of the UC Celebration over the years. We would not be able to do this amazing event without you! Second, I appreciate your patience as we've diligently explored options for this year's Celebration. Over the past few weeks a select group from our committee, along with Roger Hughes from Standley Recreation Center, have met for zoom calls to discuss the future of the 2020 UC Celebration.
Last night (Monday, May 11) our group met with the UCPC for a final vote and it was an overwhelming majority to cancel this year's event. Safety for our community is first priority as we follow current city, county and state orders related to COVID-19 restrictions. Also, I must say that we have a stellar group of compassionate and wise leaders that makes this neighborhood special.
Thank you again for your support and please know that you are in my thoughts and prayers.
Randall Tonini
UC Celebration Chair
###
---
---
---
UC Celebration 2019: were you there? Check out https://www.universitycitynews.org/2019/07/05/uc-celebration-2019-neighbors-enjoy-a-beautiful-day-at-standley-park/
Congrats to all our winners! The 2019 race results:
5K Race: UC4thRace_4July2019 5k
1M Race: UC4thRace_4July2019 mile
For more UC Celebration pictures and videos, like us on Facebook at https://www.facebook.com/UCCelebration/