From Twitter @MCASMiramarCA – Community Advisory: Beginning the week of Jan. 6th (2020) and ending the week of Jan. 20th, @MCASMiramarCA will be hosting aircraft for @3rdmaw's Exercise Winter Fury. Our neighbors can expect an increase of air operations in and around the base during this time. 
From Facebook @3rdMAW on January 15, 2020 – More than 25 aircraft are taking off daily as part of Winter Fury, an exercise designed to prepare pilots and air crews for the Marine Corps' premier formal aviation school, Weapons and Tactics Instructor Course. 3rd MAW Marines honed their skills and increased their proficiency across the six functions of Marine Aviation, while simultaneously training with their Navy and Air Force counterparts.
For related posts, visit https://www.universitycitynews.org/category/miramar/

---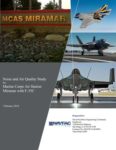 F-35 Lightning II Joint Strike Fighter at MCAS Miramar: West Coast Basing of F-35 Lightning II Joint Strike Fighter squadrons is expected at MCAS Miramar in 2020. Hanger construction and other preparations are well underway. The F35 will replace the F/A-18 Hornet at Miramar. For more information about the F-35 at MCAS Miramar and links to the Environmental Impact Statement (EIR), visit https://www.universitycitynews.org/final-environmental-impact-statement-eis-for-basing-f-35-squadrons-at-miramar-in-2020/
---
MCAS Miramar Operations Department provides world class operational and service support excellence to all tenant organizations in order to facilitate achieving strategic combat readiness and training objectives. Our goal is to maintain meaningful, long-lasting and mutually beneficial relationships with our neighbors and the local community. [As stated on their website.]
---
---
---
December 8, 2018: University City Neighbors host Memorial and Tree Dedication to Honor Victims of 2008 Jet Crash. Information posted at https://www.universitycitynews.org/2018/12/09/10-years-later-university-city-neighbors-host-memorial-and-tree-dedication-to-honor-victims-of-jet-crash/
---
From Diane Ahern, Miramar Community Leaders Forum, July 2018: If you have questions about operations at MCAS Miramar and you are on Twitter, I suggest you follow @3rdmaw, @1stMEF, and @MCASMiramarCA – the Twitter feeds for the third Marine Aircraft Wing, the first Marine Expeditionary Force, and MCAS Miramar. The social media accounts of many organizations are often updated and monitored in real time. Follow University City Community Association @UCCA_SD
---
Welcome to Marine Corps Air Station Miramar, home to the 3rd Marine Aircraft Wing. Since October 1, 1997, Marines and Sailors have been living and working aboard the 23,000-acre facility. Miramar's primary mission is to maintain and operate the facilities and provide services and material to support operations of the 3rd MAW and other tenant organizations. Read about MCAS Miramar history, commands, services and facilities, and recent news releases at http://www.mybaseguide.com/marines/49/mcas_miramar. 
---
General aviation resources:
---
MCAS Miramar Air Installation Compatible Use Zones (AICUZ) available for review at http://www.miramar.marines.mil/Resources/Encroachment/AICUZ/