For related news posts from UCCA, visit https://www.universitycitynews.org/category/miramar/
For news and updated from MCAS Miramar, visit https://www.miramar.marines.mil/
---
How to file a Noise and Safety Complaint: As published on the FAA website, aircraft departing MCAS Miramar are supposed to fly a standard instrument departure which requires a climbing right turn as soon as the aircraft is airborne. This keeps the aircraft safely east of the 805 boundary. 
The FAA and MCAS Miramar both control parts of the airspace adjacent to MCAS Miramar. When military aircraft are in positive control under the FAA's jurisdiction, the FAA has air traffic control authority over military aircraft. Residents can file noise and safety complaints with both the FAA and MCAS Miramar. Residents can also contact elected leaders.
FAA (Federal Aviation Administration) Air Traffic Control: 
MCAS Miramar Airport Operations: 
Local elected and community leaders: 
Additional MCAS Miramar Contacts and information: 
---

Lightning Strikes Miramar: 3rd Marine Aircraft Wing welcomes Corps' first F-35C: 3rd Marine Air Wing made history when it welcomed the Marine Corps' first F-35C Lightning II to Marine Corps Air Station Miramar, California, January 21, 2020. For the full news story from DVIDS News, visit https://www.dvidshub.net/news/359904/lightning-strikes-miramar-3rd-marine-aircraft-wing-welcomes-corps-first-f-35c

---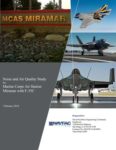 EIR F-35 Lightning II Joint Strike Fighter at MCAS Miramar: West Coast Basing of F-35 Lightning II Joint Strike Fighter squadrons is expected at MCAS Miramar in 2020. For more information about the F-35 at MCAS Miramar and links to the Environmental Impact Statement (EIR), visit https://www.universitycitynews.org/final-environmental-impact-statement-eis-for-basing-f-35-squadrons-at-miramar-in-2020/
---
December 8, 2018: University City Neighbors host Memorial and Tree Dedication to Honor Victims of 2008 Jet Crash. Information posted at https://www.universitycitynews.org/2018/12/09/10-years-later-university-city-neighbors-host-memorial-and-tree-dedication-to-honor-victims-of-jet-crash/
---
Welcome to Marine Corps Air Station Miramar, home to the 3rd Marine Aircraft Wing. Since October 1, 1997, Marines and Sailors have been living and working aboard the 23,000-acre facility. Miramar's primary mission is to maintain and operate the facilities and provide services and material to support operations of the 3rd MAW and other tenant organizations. Read about MCAS Miramar history, commands, services and facilities, and recent news releases at http://www.mybaseguide.com/marines/49/mcas_miramar. 
---
General aviation resources:
---
MCAS Miramar Air Installation Compatible Use Zones (AICUZ) available for review at http://www.miramar.marines.mil/Resources/Encroachment/AICUZ/