For the most up-to-date information with news and meet-ups: Join the University City Garden Club Facebook group at: https://www.facebook.com/groups/572419344401935
---
September 2023: Message from Jemma Samala: We're at the end of our summer, and it seems that summer vacation for the kiddies is ending sooner – what happened to summer vacation until Labor Day Weekend?They say it's time to get ready for our fall gardens, I'm still trying to figure everything out – and very happy to announce my first zucchini is ready to harvest! Small steps.
We had a very informative August meeting on seed collecting – I have to remember to record these meetings, because there is so much good information to share. We do want to help our library on Governor Drive start the seed library, if anyone wants to help, and donate seeds, let me know.
Coming up:
Saturday, September 23, 11:00am at the UC Library on Governor Drive – topic: creative ways to create succulent planters. Our presenter will be Sandra Mandel, a retired schoolteacher who is known as The Plant Lady and creates succulent planters for American Cancer Society's Discovery Shops. (If you have creative containers, feel free to bring them to donate to the ACS.) This would probably be a great time to bring succulent cuttings for an exchange or to donate to Sandra!
Saturday, October 21, 2:00pm at Ola Zabrocki's house (address given later). Ola will share her wonderful yard with us, filled with fruits, veggies and succulents. She has also shared with us her research notes on edible plants, bushes and vines for the UC climate (attached). You can tell Ola is very passionate about her gardening!
Saturday, November 11, 2:00pm at Jana Fortier's home (address provided later). Jana will be talking about herbs and making hydrosols (once I googled what that was, I became very excited about this topic – look it up). You'll want to make sure you're around for this one – great for the holidays!
December – holiday break!
Planning for 2024: Please let me know if you would like to host, or have an idea for a topic and/or speaker.
And this month:
National Indoor Plant Week – 3rd week of September (don't forget your indoor green babies!) – sounds like a good future topic!
Happy gardening everyone – it's a good life! I'll send out a reminder email the week of the 18th. If you'd like to get on our mailing list, contact me at: jemmasamala@gmail.com
---
Saturday, September 3, 2022: The UC Garden Club's next meetup is this Saturday, September 3 at 6:00pm, at a home with 130+ fruit trees and plants. If you would like to attend, email Jemma Samala at jemmasamala@gmail.com for the address. Thanks.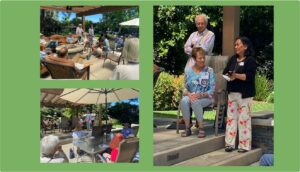 June 2022: Gardening enthusiasts are working hard to re-grow the UC Garden Club. They have met twice and developed a mission statement:
The University City Garden Club is a local community group of neighbors who gather to share their interest and knowledge in gardening, conservation, and landscape design through neighborhood gardens and group excursions. The UC Garden Club will develop philanthropic programs to help enhance the community through beautification projects and an interest in landscaping and gardening.
If you are interested in helping to re-grow the UC Garden Club, please contact Jemma Samala at jemmasamala@gmail.com
---
April 2021: The world of home gardening has changed over the years. The UC Garden Club, with a long history in University City, has decided to dissolve and has donated its residual funds to the University City Parks Council (UCPC) to be used to purchase trees for Standley Park when the construction has been completed. We will all miss this group; UCCA enjoyed featuring the UC Garden Club meet-ups in our print newsletter and on this webpage. 
---
Saturday, February 23, 2019: Sunny skies are forecast for the first UC Garden Club meetup on Saturday, February 23, on the 2700 block of Gobat Avenue in University City, from 1:30 to 4 PM. There will be a brief business meeting at 1:30 P.M. Our host will then speak on this magnificent 1/3 acre she created during the last 7 years.
---
June 1, 2, and 3, 2018:  The Bromeliad Society International biennial Conference will host a free show and sale, open to the public, on June 1, 2, and 3.
The show will feature over 200 beautiful bromeliads. Come out to see the amazing diversity of bromeliads, wonders of the neotropics. There will be many shapes and forms of bromeliads, including the popular "air plants", or Tillandsias. There will be exhibits and lots of information on how to care for these easy to grow plants. The sales area will feature vendors from Hawaii, Florida, and California.
The Show and Sale is located at Paradise Point, 1404 Vacation Rd, San Diego 92109. Paradise Point (formerly called Vacation Village) is on Mission Bay off Ingraham on Vacation Road.
---
Garden Club Meetup April 8 from 2:00 to 6:00 p.m on Cozzens Street, San Diego. 92122. You will tour the garden, home and art studio with the owner C. Martino. There will be a professional cacti and succulent grower giving a talk on the various plant varieties and will sell healthy plants. We will have live music, raffle prizes, tapas, and beverages.
This garden is unique and interesting with many drought tolerant plants. Much of C. Martino creative art is placed throughout the garden. Martino is a Southern California artist and curator. His works is shown in public venues and private collections from coast-to-coast, Hawaii, Europe and beyond. He is the chief curator of CM Curatorial, a contemporary art gallery and art services consultancy located in the Barro Logan.
---
UC Garden Club to Host March Meet-Up on March 18, 2018: Come join the UC Garden Club on Sunday, March 18, from 2:00 – 4:00 at the home of Mack and Merle Langston to experience an Asian style re-landscaped paradise in a woodsy Zen like setting complete with fountains, bridge, statues, bonsai, BBQ island, fire pit and pergola. As you wander through, you will see Azaleas, Camellias, Clivias and specimen trees, including the famous Alba tree from which the most expensive perfume in the world originates. Learn about the process required to create this outdoor living space while enjoying refreshments, a featured speaker and an informative tour of this beautifully done landscape upgrade.
---
June 10, 2017: UC Garden Club to host Twilight Gathering. Carol Costarakis and Rolf Haas have graciously agreed to have us at their lovely home on June 10, from 6:00 to 8:30 PM. Their home is in the 5500 block of Sandburg Avenue in University City, San Diego, 92122.  All gardeners and those interested in gardening are welcome to attend. On the evening of the meetup, follow the posted signs on Sandburg Avenue. To see photos and story, visit https://www.universitycitynews.org/2017/06/11/uc-garden-club-lighting-transforms-neighborhood-backyard-oasis-into-a-place-of-discovery/
---
June/July 2017: Courtesy of Ginger Steketee, president, UC Garden Club: The UC Garden Club is jumping into Summer activities with gusto! We are pleased to announce that the Linda Vista Village Garden Club is now one of our associated clubs and will join us in all our fun activities. Of special note, the Garden Club is asking for volunteers to host 2017 meet ups. We are also hoping any community members wishing to attend meet ups also let us know; all are invited. Please contact us at 858-836-1441.
We will be hosting a double booth of stupendous plants and garden accessories at the 4th of July Celebration, donated by Dan McCoy, owner and a realtor in University City at Paragon Realty. These estate plants Dan acquired for us are WOW quality and we will couple these fantabulous beauties with the healthy and lovely plants our members have cultivated just for the Celebration. It's sure to be our best presentation yet!
Lastly, but not least, with regret we release Bob Byrnes, our hard-working treasurer/communications board member, who chooses to share his talents in new avenues. Bob has been a huge part of the Garden Club success. Many kudos to Bob.
For more information about the UC 4th of July Celebration, visit http://uccelebration.com/ 
---
Sunday, October 9, 2016: Join the UC Garden Club on Sunday, October 9, 4 to 6 PM at the home of Merle and Mack Langston to experience a newly re-landscaped University City backyard, Asian style, in a woodsy Zen like setting complete with fountains, bridge, statues, bonsai, BBQ island, fire pit and large pergola with polycarbonate skin on top.
See attached photo for a sneak peak.
Learn about the process required to create this outdoor living space while enjoying refreshments, a featured speaker and an informative tour of this beautifully done landscape upgrade.
---
At the 2015 4th of July Celebration, we held a plant sale, thanks to a club member donating her plants prior to a move to the east coast.  Take a look at our slide show!
---
Join us at an upcoming UC Garden Club meet up or event.
April 23, 2016: The next meetup of the UC Garden Club will take place Saturday, April 23 from 1 to 3 PM at the garden of Julie Nydam on Fisk Avenue.  Julie is a member of the San Diego Rose Society, and is also a Rosarian (American Rose Society certified rose growing consultant) and a Horticultural Rose Judge as well.  She will speak on the care and cultivation of roses.  Julie welcomes questions – please come prepared!

Julie's garden contains 250 rose bushes of different varieties, colors, and fragrances on all sides of her home.  Her front yard features a lovely courtyard with a fountain and few orchids sprinkled in.  Her back yard contains a terraced hill full of roses with a swimming pool. Refreshments will be served.  There is little shade, so please wear hats. The street address will be sent to UC Garden Club members prior to the meetup.

---

---

We are always looking for meetup locations. 

Check out the February 2015 issue of the UCCA newsletter featuring the UC Garden Club.
---
From the October 2015 meetup, the garden of Carol Costarikis and Rolf Haas:
---
From the September 2015 meetup, the succulent garden of Bretta Lutze; photos courtesy of Theresa Fassel:
---
From the September 2015 meetup, courtesy of Randy Fillat:
---
From the August 2015 meetup, courtesy of Marilyn Mehr and Theresa Fassel: 
---
From SDNews and Sandy Lippe: Tama and Marshall Varano recently hosted members of the U.C. Garden Club on a tour of their "green" garden, where the phrase "going green" is an understatement.
"Our garden is a reflection of my husband Marshall's green thumb and my green-minded design," said Tama. "To maximize our opportunity to grow fresh, organic fruit and vegetables, we have utilized our front and backyard to accommodate over 25 fruit trees and various vegetables as well as drought- tolerant flowers. In doing so, we have also incorporated water-saving techniques and overall green living into our daily life."
Read more at San Diego Community News Group – Going green giving back rule at the Varano home
http://www.sdnews.com/view/full_story/26787169/article-Going-green–giving-back-rule-at-the-Varano-home
Photo caption: Tama Varano is flanked by the grapevines and apple trees that color her life in University City; photo by Sandy Lippe and posted on SDNews.
---
– Photos from the July 2015 meetup, courtesy of Theresa Fassel and Marilyn Mehr.
---
---
– Photos from June 2015 meet-up.
---
– In March 2015, the Garden Club enjoyed a discussion on native plant gardening.
---
– In February 2015, the Garden Club met in the lovely garden of Sue Boudreau and listened to a presentation by Nico Goossens of the Orchid Society. Download the March 2015 UCCA newsletter at https://www.universitycitynews.org/ucca-newsletter-archives/ and visit our Facebook page for a description and more photos.
---
– 2014 Meet-ups: At the November meet-up, Garden Club members met in the sun-filled garden of Marv Lyons to listen to Marv speak briefly on individually managing one's lifestyle by way of small scale hydroponic gardening, thus minimizing his/her impact on systemic climate change.  This led into a longer discussion led by Brandon Burrows of Good Karma Aquaponics that focused on a vertical hydroponics garden built and planted just 1 hour previously.  We learned how to build a garden and grow our own vegetables in a small area.  Garden soil is not required!  Members enjoyed soup and a variety of salads, chips, drinks, and desserts contributed by attendees.
---
– October 2014 Meet-up:
 
---
At the October 2014 meet-up, Garden Club members and guests enjoyed the "work in progress" garden of a home off Gullstrand.  Ari Tennenbaum, a garden creator from Revolution Landscape, led us on an informative walk through.  The shallow back yard held flowers and edible plants with a drip system that has produced lush and large crops.  In contrast, the landscaper filled the steep rising back slope with low maintenance native plantings, such as flattop buckwheat and black sage, which are surviving with no irrigation system.
On the side of the house was a lovely sitting alcove cradled under a grape arbor with an adjacent cascading water pond forming a meditation area surrounded by fruiting low plants and trees. The front yard featured dwarf fruit trees, and an open space that when completed will hold waterwise plantings. Our host and hostess served a sumptuous table of finger foods, and an apple Bundt cake that gets the dessert of the year award!
---
Our September 2014 meet-up was held at the garden of Elaine and Don Shankles. Elaine presented us with a "Kings' table" of extraordinarily tempting homemade dishes from their garden harvest. Lucky us! Their garden was a semi-tropical oasis featuring covered patio greenhouse includes waterfall, plumerias, bromeliads and orchidae.
The abundance of delights circling the main backyard lush lawn include succulents, fruit trees, herbs, vegetables, a huge children's complete playhouse, and terraced delights. A jungle-like environment  was created by an immense curtain of orange African Honeysuckle grown as a hedge barrier.  Butterflies, bees and birds of all kinds were in the air and through the plants – a huge treat for all nature lovers.
The kingpin feature of the day was an excellent talk by member, UC resident, and active Native Plant Society member, Tish Berge. She extolled drought tolerant plantings and native plant gardening. She shared with us knowledgeable handouts that depicted her newly completed (if a gardener can say completed) waterwise landscaping at her University City home.
---
---
On Sunday, August 17, 2014, the UC Garden Club visited the garden of Carl and Marilyn Mehr. Well, hold on to your hats, because August was a whoop whoop-si-dooser – a great afternoon gathering. The Mehrs served up lemonade from freshly picked lemons and toured through extensive magical canyon gardens. Imagine large, healthy fruit trees with HUGE fruit attached, accompanied by colorful plants and zipping bees gliding through at eye level, all giving forth beauty and excitement as only a strong Nebraskan, and a determined, talented Dane can create. Homemade lasagna was paired beautifully with crunchy garlic laden bread, lettuce salad, cheese balls and fruit plates – a gargantuan homemade meal by Ms. Marilyn, our supreme hostess-with-the-mostest.
---
– Past Events and Meet-ups
---
---
– As featured in the UCCA Newsletter