August 2022: Spreckels Elementary undergoing a Whole Site Modernization and Joint Use Improvements.
August 2022 at Spreckels Elementary: What's Going On Behind the Blue Curtain?
---
April 7, 2022: Standley Aquatic Center Grand Opening Celebration 
Diving into Spring: San Diego Unified Celebrates University City's New Joint-Use Pool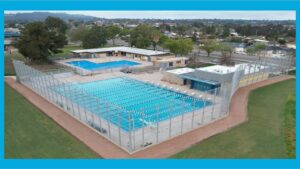 ---
April 2022: From San Diego Unified School District (SDUSD): Please join us! The Grand Opening Celebration is scheduled for Thursday, April 7, 2022 from 12:30 – 1:00 p.m. The public dedication for the Standley Middle School joint-use aquatics facility will include a performance from the University City High School (UCHS) cheer team and drumline, followed by brief comments from Board of Education Vice President Sabrina Bazzo, Former Board of Education Trustee Dr. John Lee Evans, City of San Diego Councilmember Joe LaCava, both the Standley Middle and UCHS principals, and a UCHS swimmer. To end the ceremony, speakers will join students for a ribbon-cutting countdown and a group of UCHS swim team members will dive into the pool for a celebratory lap.
---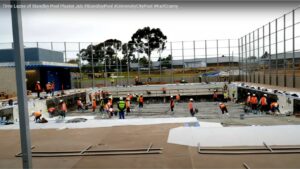 Planned joint-use improvements for Standley Middle include a new joint-use pool aquatic center, outdoor pavilion, and running/walking path. Spreckels Elementary will experience a whole site modernization. For recent video, photos, and news, visit https://www.universitycitynews.org/category/imagine-uc-2020/
For more information from San Diego Unified School District: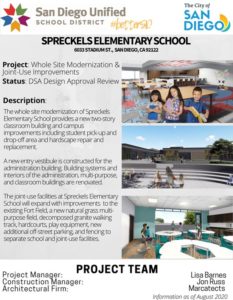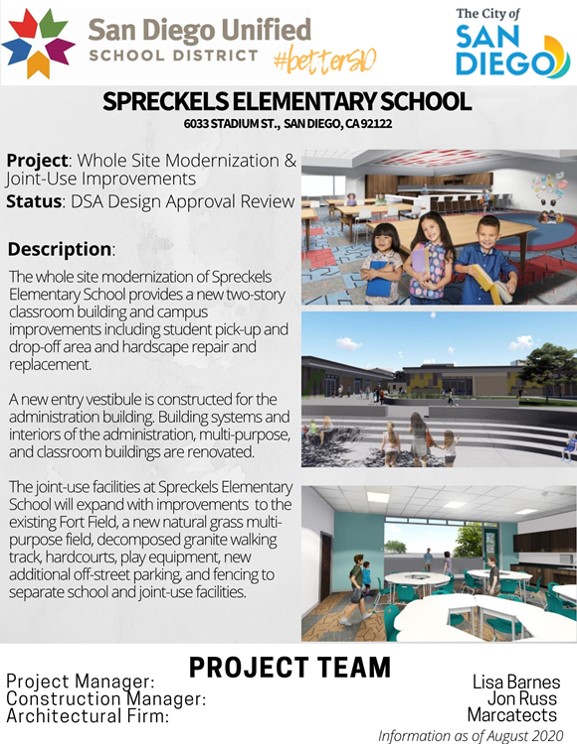 ---
January 2022: For recent news and videos, visit https://www.universitycitynews.org/category/imagine-uc-2020/
November 2021: The whole site modernization of Spreckels Elementary School provides a new two-story classroom building and campus improvements including student pick-up and drop-off area and hardscape repair and replacement as needed. Building systems and interiors of the administration, multi-purpose, and classroom buildings are renovated.
The joint use facilities at Spreckels Elementary School expand with a new multi-purpose natural turf field, decomposed granite path, hardcourts, play equipment, new additional off-street parking, and fencing to separate school and joint use facilities.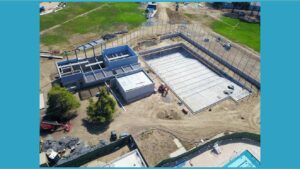 August 2021: What's going on behind the blue fence between Standley Middle School and Standley Park? Take a look at the new video courtesy of Karl Cranford at https://www.universitycitynews.org/2021/08/10/august-2021-whats-going-on-behind-the-blue-fence-between-standley-middle-school-and-standley-park/
February 25, 2021: Lots of activity at Standley Park today! UCCA was thrilled to take a tour of the construction site at Standley Park where SDUSD is building a joint use pool, pavilion, and walking path on the Standley Middle School side of the campus on school district land next to the existing Swanson Pool at 3585 Governor Drive. We have attached a few stills and videos from the depths of the new joint-use pool built at Standley Park at https://www.universitycitynews.org/2021/02/25/making-progress-construction-at-standley-park-includes-joint-use-pool-pavilion-and-walking-path/
---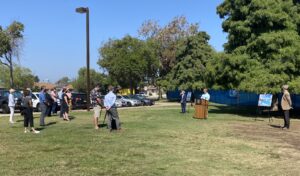 October 7, 2020: UCCA was excited to be at Swanson Pool and Standley Park In University City for the groundbreaking of the Imagine UC 2020 project to build a new aquatic center, pavilion, and upgrade Standley and Spreckels schools.Both school principals (Standley & Spreckels) were at the groundbreaking press conference as well as several community members. Councilmember Barbara Bry, School board president John Lee Evans, and student school board member Zachary Patterson gave short speeches. Certainly a non-traditional event in these COVID restricted days. But it's great to see this project started!
---
October 7, 2020 Groudbreaking: From John Lee Evans, San Diego School Board President: Standley Park will have the official groundbreaking of the Imagine UC 2020 project in a modified, social distancing format, on Wednesday, October 7 at Standley Park. This groundbreaking ceremony for this important Joint use project will be attended by school district and city officials. This project has been in the making since 2014 with a dedicated local steering committee consisting of Barry Bernstein, Sandy Lippe, Greg Zinser and me.
The final approval of the construction contract was approved at the school board meeting on September 8, 2020 and construction fence is being installed this week; construction will begin this fall. The Imagine UC 2020 joint use project construction bid has been combined with the whole site modernization of Spreckels Elementary.
---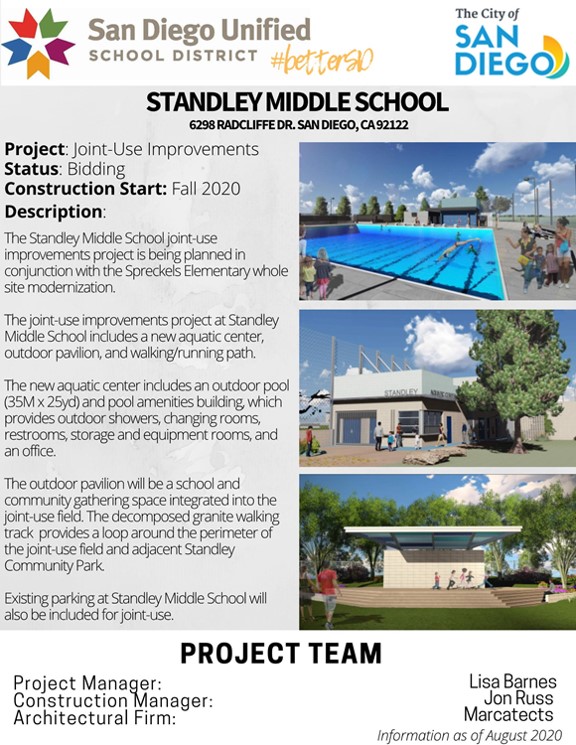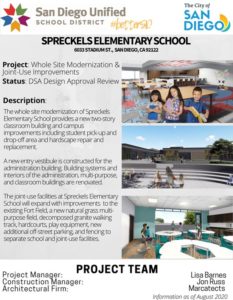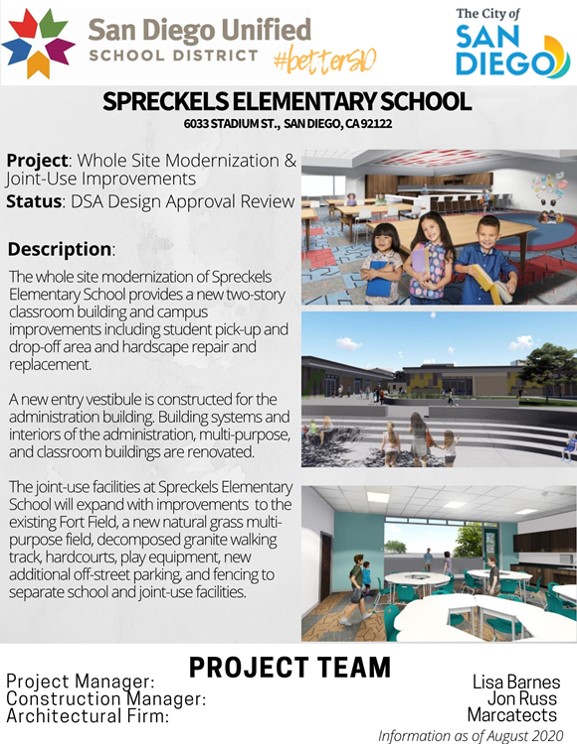 August 2020: UCCA received Project Fact sheets for the Standley – Spreckels projects adjacent to Standley Park on Governor Drive from Communication Supervisor, San Diego Unified School District.
Standley Middle School project is on schedule to get underway Fall 2020.
Dr John Lee Evans (SDUSD board president) reports the board is scheduled to vote on final approval of the construction bid for the Standley Middle School project at their September 8 board meeting. Board approval is the final step before they can break ground.
Click on images and/or PDF link to view. Standley_Spreckels Fact Sheet Aug. 2020 – web
---
June 2020: John Lee Evans, San Diego Unified School Board President, was the guest on UC Talks on June 20, 2020. Host Jemma Samala talks with him about the reopening of our local schools, what that will look like, and the many COVID-19 related challenges to be faced. Evans is one of the key organizers behind the neighborhood's ImagineUC 2020 project – new aquatic center at Standley Park, pavilion, and jogging path; as well as improvements to the Spreckels Elementary and Standley Middle school campuses on Governor Drive. Listen and you'll even find out to which area park he takes his dogs.
Jemma and Dr. Evans start out talking about the challenges of distance learning and the re-opening of schools. At approximately 38 minutes, they begin talking about Imagine UC 2020 and the aquatic center and other updates to the Standley Middle School, Spreckels Elementary, and Standley Park campus on Governor Drive.
---
October 2019: Imagine UC 2020 Moving Forward, courtesy of Dr. John Lee Evans, SD Unified Trustee: Imagine UC 2020 is moving ahead. We displayed the attached graphics at Oktoberfest 2019. Then on October 15, 2019, city and school district negotiators worked out final details of the joint use agreement for Standley Park. It has already been approved by the school board and now needs official approval of the agreement by City Council.
We hope that it will be placed on the council agenda soon. In the joint use agreement the school district contributes the capital funds for construction and the city provides the operational funds. Once it is approved by City Council the project can be put up for bid and construction can begin in 2020.
The full project includes an Aquatic Center with a new competition- size pool alongside the current pool. It will be available for swim team and water polo, as well as for instruction in PE classes. Both pools will be available to the public when not being used by the schools.
Additionally, there will be a jogging path around the perimeter of the park, a stage/pavilion for community events and an added grass field next to Spreckels. Eventually there will be an additional parking and drop off area at the front of Spreckels that will also be used on weekends for parking at the park. Special thanks to committee members Barry Bernstein, Sandy Lippe and Greg Zinser who have been working with me to make this community project a reality. It looks like we will be able to make our 2020 target date.
For more information, visit the SDUSD School Facilities Projects Page for Standley Middle School at https://fpcprojects.sandi.net/Pages/Reports.aspx?SchoolName=9325
See also School Facilities Projects at https://www.sandiegounified.org/facilities-planning-and-construction
---
---
July 2017:  SD Parks & Rec Approves Standley Park Improvements, courtesy of Sandy Lippe: The San Diego Park and Recreation Board met in Balboa Park on May 18 to vote on agenda items that included Standley Middle School and Spreckels Elementary School joint use and aquatic facility general development plan amendment. The Parks and Recreation Board voted unanimously to approve the projects.
At the meeting Dr. John Lee Evans, Board of Education member, outlined the issues under consideration. The joint use agreement between the San Diego Unified School District and the City of San Diego was adopted in 1975 and has worked smoothly with fields being shared by the schools and the community. At one time, Standley students took swimming at Swanson Memorial pool.
The new initiative put forth by Mayor Faulconer and SDUSD Superintendent Cindy Marten is called Play All Day Parks program. The SDUSD schools can help fund the capital projects and the City can underwrite the operational costs. Both the schools and community benefit.
At a University City public input meeting in 2014, over 100 people attended to share ideas on the proposals: the pavilion, the pool, and jogging path around the perimeter of the park. The stage pavilion will be ideal for student events and our summer concerts and big events like the UC Celebration. The new pool will provide a much needed site for high school water polo and swim teams, as well as benefit the community.
It is exciting to be on the cutting edge of some wonderful projects at Standley Park, knowing added green space at Spreckels and energy efficient methods will drive the design of the pool.
While Standley Park Recreation Council overwhelmingly supports this project, the unanimous votes by San Diego Park and Recreation Board were music to the ears of those who have been working on the project since 2014. Plenty of work lies ahead, but University City is on the right path after that unanimous support from Parks and Recreation.
---
For historical reference related to the Imagine UC 2020 project, visit https://www.universitycitynews.org/category/imagine-uc-2020/