Special Events: UC Cars & Coffee on Saturday, May 26; Pies in the Park at Standley Park on Sunday, May 27:
UC Cars & Coffee meetup Sat 5/27; Pies in the Park (Standley) Sun 5/28 12-3PM
---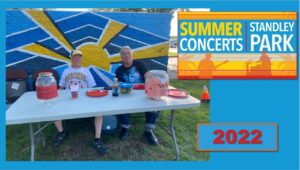 2023 Summer Concerts: Summer Concerts are sponsored by the University City Parks Council and held on Sunday evenings at Standley Park, 3585 Governor Drive, from 5 to 7 PM. Stay tuned … we expect the 2023 Summer Concert schedule to be announced soon.
Standley Park is a fun and family friendly venue with playground and large grassy area. Bring your friends, family and neighbors … and your dancing shoes. Come early with your chairs, blankets, and picnic dinners. Enjoy the evening with friends and neighbors in University City. Arrive early to pick out a favorite spot in the shade. Don't forget your dancing shoes! 
There is no cover charge; donations are welcome and proceeds benefit the University City Parks Council, the Summer Concerts event sponsor.
Please note: Concert music is loud; the sound is amplified and projected with speakers located close to the stage. The Summer Concerts are subject to cancellation due to inclement weather.
Help wanted! University City Parks Council (UCPC) president John Schindel says "… we still need some "roadies" to help set up the stage (on concert days), etc at 1pm and take down at 7pm. We pay $20 cash." Contact John via email at jschindel1@san.rr.com if you'd like to give back to the community and make a little cash too. Great for a high school and college student perhaps?
Send your thanks to the Concert Committee:
Andy Freeburn – Concert Committee chair – promovstar@aol.com
John Schindel – President, University City Parks Council – jschindel1@san.rr.com
Greg Pardue – Forecast – band liaison – forecast@san.rr.com
For related posts, visit https://www.universitycitynews.org/category/parks-recreation-dept/
---
October 2022: Have you heard live music coming from north of Rose Canyon? Chances are it's coming from the new Epstein Family Amphitheater at US San Diego.
Now Open! Epstein Family Amphitheater at UC San Diego