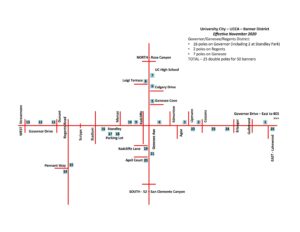 ---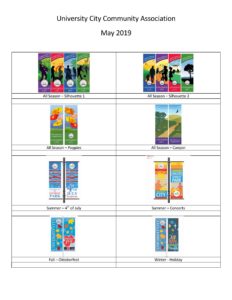 UCCA's Street Banner Program history: In 2001, International City Bank (formerly located at 3939 Governor Drive), under the leadership of CEO, Jane Netherton, generously committed $10,000 to launch the University City street banner program when University City Community Association contacted various businesses asking for support of the project.  In 2007, she committed an additional $5,000 for new street banners for Governor Drive, Regents Road, and Genesee Avenue.
Barbara Henshaw, UCCA banner chair in 2007, worked with a graphic artist who has designed many street banners. In 2011, UCCA sponsored a banner design contest within the community to replace many of the existing faded banners. Ten contestants submitted designs and four were chosen to be installed throughout the community along Governor, Genesee and Regents.
In 2016, UCCA received a generous grant from the San Diego County Board of Supervisors which provided funds to design and produce a series of new banners. UCCA also partners with the San Diego County Fair to promote awareness and attendance every summer. UCCA is open to partnering with other groups such as MTS (to promote Free Ride Day) and Voices for Children (to promote child advocacy services). In addition, UCCA partners with local groups such as Friends of Rose Canyon, EdUCate, the UC Celebration and Summer Concerts (with the Parks Council). UCCA currently manages a banner district with 25 light poles and space to display 50 banners.
For more information about UCCA's current Street Banner Program, contact UCCA at UniversityCityNews@gmail.com.
---
---