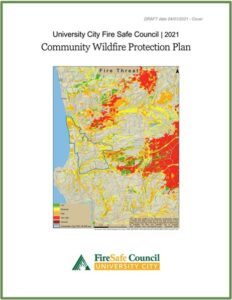 April 1, 2021 through April 30, 2021:  The Fire Safe Council is seeking comments, suggestions, and feedback on the First Draft  of the University City area Community Wildfire Protection Plan (CWPP).
The CWPP is a blueprint for fire prevention and preparedness at the neighborhood level.
Please note: Comments, suggestions, and feedback will be reviewed and considered by the Fire Safe Council when developing its final draft CWPP. The final draft will be reviewed and approved by the San Diego Fire-Rescue Department as well as the County and State Fire Safe Councils. A completed and approved CWPP will enable the University City Fire Safe Council to become eligible for grant funding for fire prevention and preparation activities. The comment, suggestion, feedback period for the draft CWPP is open now through April 30, 2021.