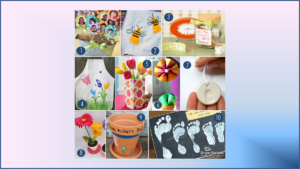 Mother's Day may still be a month away, but UCCA is busy planning for the May newsletter and wants to feature pictures and stories of your favorite Mother's Day gift from a child.
Maybe it was something similar to one of these pictured? From fingerprint necklaces to handprint aprons, moms everywhere treasure homemade art projects.
Family Faces Flower Garden
Footprint Towels
I Love You Jar
Handprint Apron
Mosaic Vase
Recyclable Spring Flowers
Fingerprint Necklace
Pen Flowers
Hand Painted Flower Pots
Family Wooden Stool
Please send a picture of the gift (if possible) and up to five sentences describing the gift to our newsletter editor, Jemma Samala, at jemmasamala@gmail.com. The deadline is Tuesday, April 18.
Information and photo courtesy of Bright Horizons Blog. Mother's Day is Sunday, May 14.