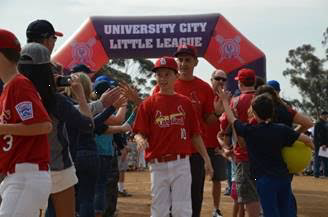 Time to Play Ball UC, courtesy of Meredith Kennedy:
Little League Special Stars Game

University City Little League (UCLL) will host its annual UCLL Community Day and Hit-a-thon on Sunday, April 23 from 12:30-5:30 PM. We will have a big family BBQ (minimal cost) and invite the parents, players, families and the community to join us for this family friendly day at Standley Park, 3585 Governor Drive. We will be recognizing UCLL Past Presidents.

Save the date for our April restaurant fundraiser night at Chipotle on Thursday, April 27 from 5:00pm-9:00pm at the Costa Verde location.

Baseball season has begun! UC Little League had an exciting, baseball-filled Opening Day on Saturday, March 4 at Standley Park.

Opening Day Ceremonies included a team parade led by the Standley Middle Marching Band, the First Pitch, announcements of the 2016 UCLL All Star teams, presentation of the Challenger "Special Stars" banner from their participation in the MLB All Star Game festivities last July (photo below), team announcement with run through the arch (photo above), the T-ball Otter Pop Run and special guests Padres Pad Squad!

Opening day was also the Annual Baseball Equipment Exchange. UCLL families donated many helmets, gloves, bats, base pads and baseball jerseys to Kids Gear for Baseball kidsgearforbaseball.org. Thank you for your donations!

Please check schedules and information at www.ucll.org. Follow us on Facebook @UCLL. See you at the field. PLAY BALL!
For related posts, visit http://www.universitycitynews.org/category/parks-recreation-dept/